This classic, southern favorite is welcome at any gathering. I love to serve these as an appetizer for a picnic lunch or make a plate to take for a covered dish. Plan ahead for easy-to-peel eggs. The fresher they are, the more challenging it is to remove the shell.
For best results, use eggs that are at least a week old. I also like to poke a tiny hole (with a thumbtack) on one end of the egg just before boiling. This will help the shell separate from the inner lining of the egg when it's time to peel.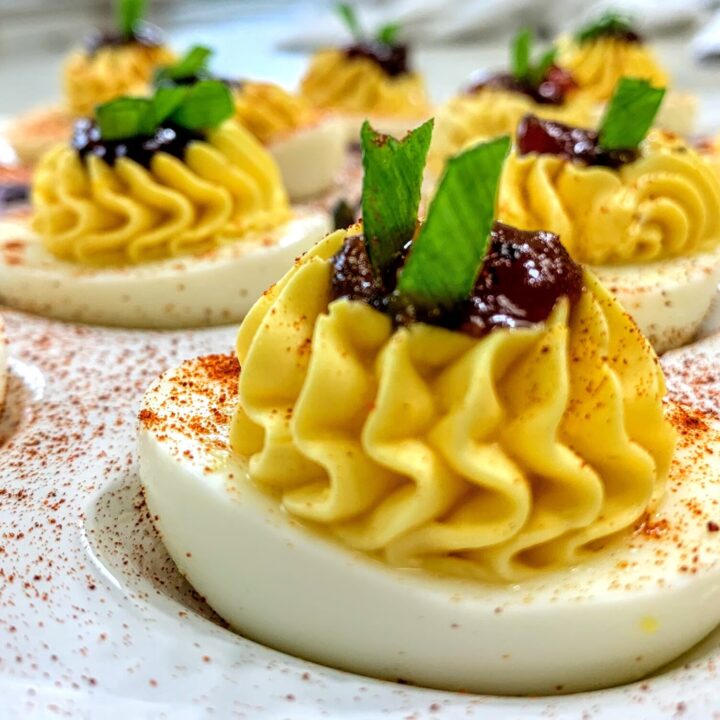 Classic Deviled Eggs
There are many ways to make a delicious deviled egg. This very basic recipe is a good starting point- feel free to jazz it up by adding your favorite embellishments.
Ingredients
1 TBSP baking soda
6 large eggs
2 TBSP mayonnaise
1 tsp dijon mustard
1/2 tsp of your favorite hot sauce (or to taste)
1 tsp smoked paprika
KitchenAble seasoning to taste
Microgreens, pepper jelly, and fresh herbs to garnish
Instructions
Cook eggs, place in a large pot, add bakign soda and cover eggs with cool water. Place over high heat and bring to a boil. Allow to boil for 2 minutes. Put lid on pot, turn off heat and set timer for 15 minutes. Remove eggs from water, crack shells and place in a large bowl with ice water. Allow eggs to cool then peel.

Cut eggs in half and place yolks in a gallon freezer bag. Roll with a rolling pin to mash and remove any lumps.

Add mayonnaise, mustard, hot sauce, paprika, and seasoning to bag with yolks. Cut corner from bag or add pastry tip to pipe yolk mixture into prepared egg whites. Garnish as desired with fresh herbs, pepper jelly, smoked paprika, or micro greens.

To serve line a plate with a layer of lettuce leaves or micro greens to create a "nest".

Notes
If using a pressure cooker (like the Instapot) to cook eggs: place eggs on rack in pressure cooker with 1 cup of water and cook on manual, high for 5 minutes, turn off and let sit for 5 mins. Release pressure, place in ice bath and crack and peel the eggs.