In celebration of local flavors for the Seven Days of Local Delights, hosted by the Red Hills Small Farm Alliance , we're happy to share this duo of recipes featuring local ingredients. Glendower Farm of Monticello offers delicious, flavorful Iberico pork and we were thrilled to use it to share our recipe for sausage gravy. We served this delicious decadence over local stone-ground grits from Bumpy Road Farm (prepared with almost no effort in our rice cooker.)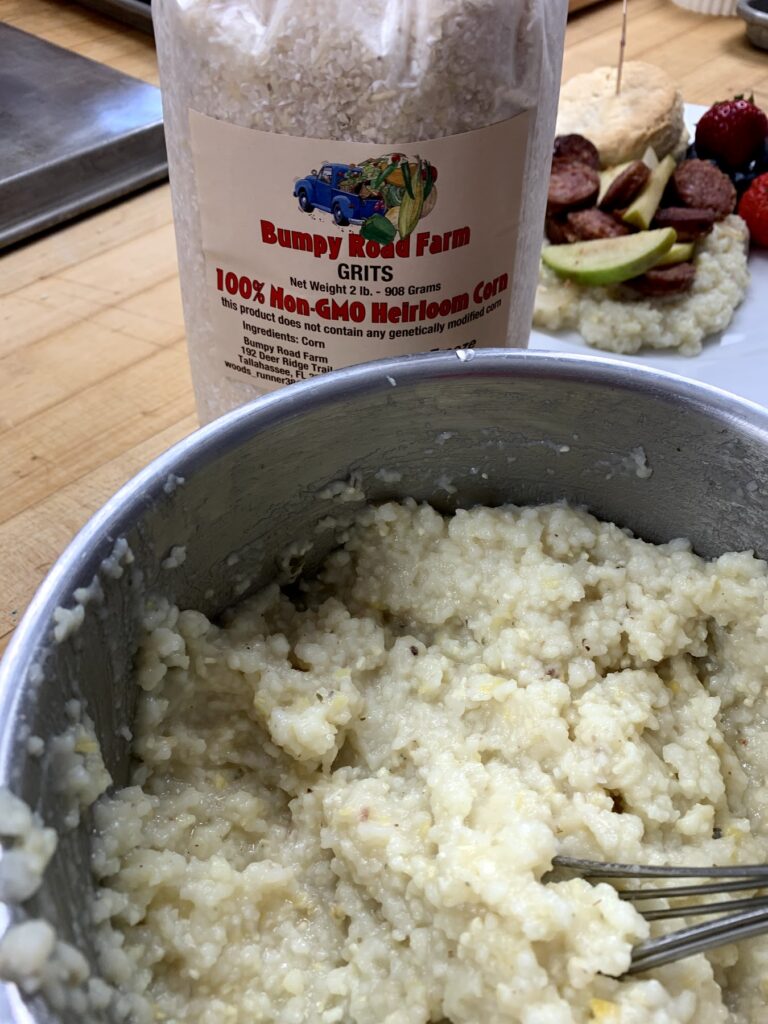 Sausage Gravy
This simple sauce is a staple in the south. Perfect with grits or on a biscuit.
Ingredients
1 lb ground pork sausage (Iberico from Glendower Farms)
2 TBSP butter
2 TBSP all-purpose flour
2 cups whole milk
hot sauce and black pepper to taste
Instructions
Add the sausage to a cast iron skillet over medium heat. Crumble and cook in pan until cooked through. Remove cooked meat from the pan and set aside- leave some of the drippings in the skillet.
Add butter to the skillet and melt, whisk in flour, cook and stir for about 2 minutes until this mixture, a roux, smells slightly toasted. Gradually pour in the milk- stirring constantly as you do so. Bring the mixture to a gentle simmer and allow it to cook until it thickens and easily coats the back of a spoon.
Return sausage to the pan, add pepper and hot sauce as desired. Allow it to simmer gently for a few more minutes then serve hot with your favoirte breakfast items.
Notes
This recipe can be made with other types ground meat for different types of gravy. You can even follow this technique with mushrooms to create a vegetarian version.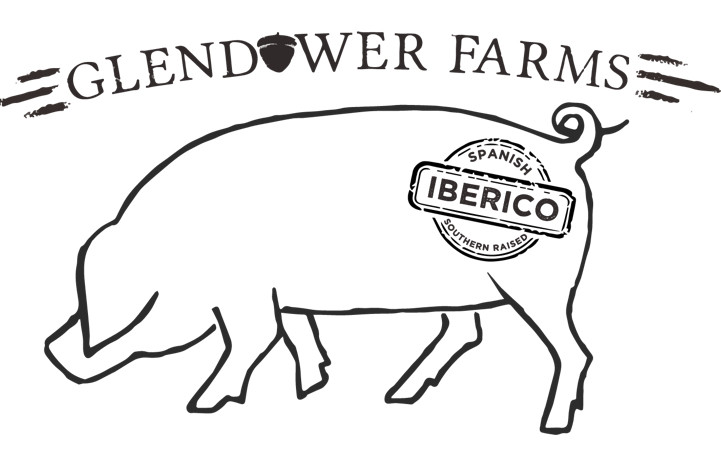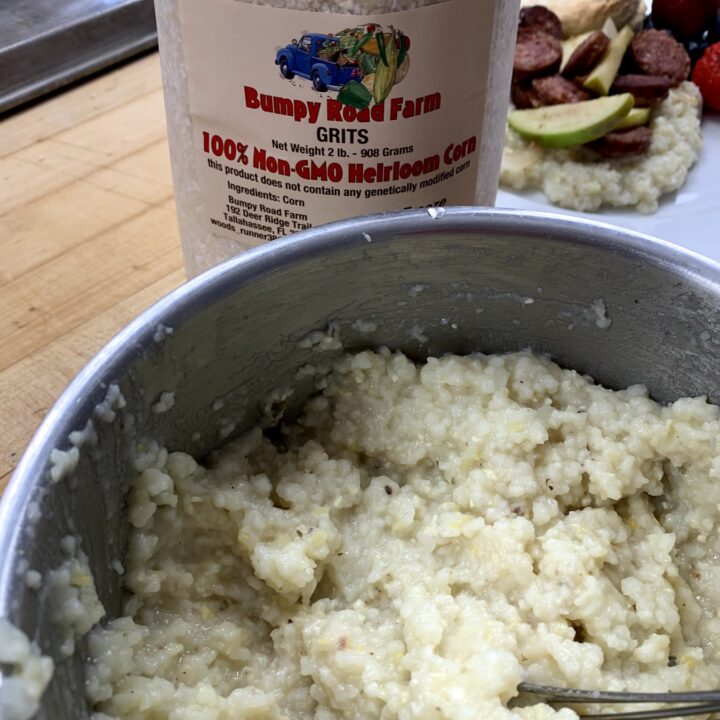 Super Simple Stone Ground Grits
This simple recipe requires minimum effort because you use a rice cooker (or instapot) to mind the grits while they cook!
Ingredients
1 cup stone ground grits (Bumpy Road Farm or other local source)
3 1/2 cups water (or chicken stock)
KitchenAble Seasoning to taste
butter to taste
Instructions
Combine grits, liquid (water or stock) and seasoing in the bowl of your rice cooker (or instapot). Stir to mix, place lid on pot, choose the white rice setting and hit start. Allow the grits to cook without disturbing on until the rice cycle is complete. Carefully open lid, stir to mix evenly (being sure to scrape the bottom of the pot well. Season to taste.
Notes
You can easily modify this recipe to suit your taste or othe dished you are serving it with. Use stock (instead of water), sauteed aromatics (onions, garlic, or peppers) for additional flavor, or cheese.