On Saturday, March 20, at 10am I will be at the Tallahassee Farmer's Market to answer questions, provide samples, and demonstrate how to use fresh kale (which is now in season). Please join me at the market where you can find fresh, local, seasonal options. You can also try making this easy hummus at home – a great way to use all of your kale (even the stems!). The kale I'm using this week was from my friends at Handsome Harvest Farm.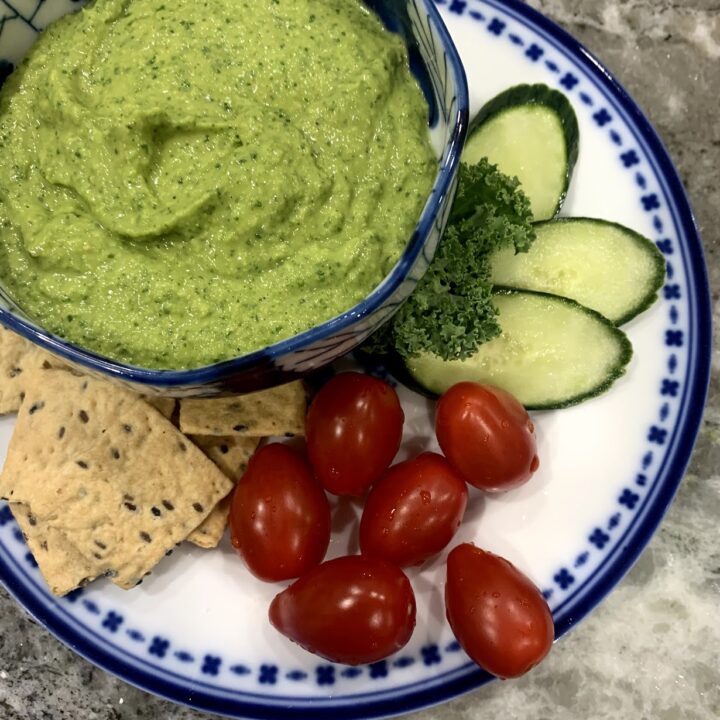 Kale Hummus
Total Time:
1 hour
20 minutes
A fresh green dip that is delicious with fresh vegetables or crackers.
Ingredients
1 bunch kale
1 15.5oz can garbanzo beans, rinsed and drained
2 TBSP minced shallot
2 TBSP fresh squeezed lemon juice
2 TBSP tahini
1 tsp sriracha or your favorite hot sauce
1/3 cup olive oil
1/2 tsp salt (or to taste)
Instructions
Remove kale from stems, bring a small pot of water to boil (with enough water to cover the stems). Add stems to the pot then reduce heat to simmer and cook until stems are fork tender, about 5 minutes. Remove from water and allow to cool.
Combine kale stems and remaining ingredients in your blender or food procerssor. Pulse to blend until the mixture is fully incorporated and smooth. If necessare you can add a little water to help with the process.
Refrigerate at least an hour or overnight then serve with fresh vegeables as a dip or as a spread for your favorite bread.