Birthday cakes are so much fun to make, especially when they are for someone special to you.  This week my mother hit an undisclosed milestone and my family (including her younger brother who shares her birthday) gathered to celebrate the incredibly large number of years she had achieved. (Just kidding Mom—everyone knows you are still a spring chicken!)
When I told my four-year-old Madeline that her Mimi was about to have a birthday, she was overjoyed to help make a cake and cards for the occasion.  It was so thrilling for her to realize that even her grandmother has birthdays.  And like me, Madeline loves any excuse for a party.
I struggled with the decision of what cake to make.  Many of the celebrants at our family gathering were watching their diet in one way or another so I decided to create a new recipe using more healthy, less processed ingredients.   Yes, this is still a dessert and an indulgence, with its fair share of calories.  However, I was able to avoid many of the vices found in traditional birthday cakes:  no butter, no refined flour, and I used brown sugar and honey instead of the usual granulated or powdered sugar.
Since whole wheat flour is often more coarse and heavy than  all purpose or cake flour, I recommend using either whole wheat pastry flour or white wheat whole wheat flour for the cake—they tend to be less gritty than the standard "whole wheat" flour.  Also whisk the flour in a medium bowl before measuring out the three cups you need for this recipes.
Spiced Pear Cake with Honeyed Whipped Cream and Toasted Walnuts
51
Cook Time: 45 minutes
1 hour
Per Serving 615 calories
Fat 28 g
Carbs 89 g
Protein 9 g
A special cake for special occasions!
Ingredients
4 ripe pears
4 cups ginger ale
3 cups white wheat whole wheat flour
1 TBSP baking powder
1 tsp baking soda
½ tsp salt
2 tsp ground ginger
2 tsp ground cardamom
2 cups packed dark brown sugar
½ cup honey
6 medium eggs at room temperature
1 ¼ cup buttermilk
1 cup chopped walnuts, toasted and allowed to cool
Directions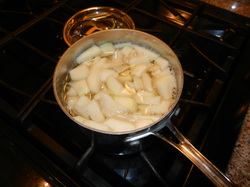 Peel the pears, core, cut into thick slices, place in a small saucepan; cover with the ginger ale, and simmer until the pears are tender. Remove from heat and refrigerate the pears in their liquid until the cake is ready to assemble.
Preheat oven to 350°F, Grease and flour three, nine inch round cake pans.
Whisk together the flour, baking powder, baking soda, salt, ginger and cardamom. Cream together the coconut oil and brown sugar. Add eggs one at a time to the creamed mixture, beating well after each addition. Incorporate half of the flour mixture, then incorporate half of the buttermilk; repeat with the remaining flour mixture and buttermilk, and mix well.
Divide the batter evenly between the three prepared pans. Bake at 350°F for 30-35 minutes. Check for doneness before removing from oven, A toothpick should test clean at the center of the cake. Cut around the edge of cake pans and allow to cool for 15 minutes, then invert onto cooling racks and cool to room temperature.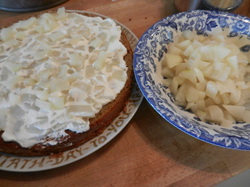 Remove pears from liquid and reserve. Cut into ½ inch pieces.
Fold pears into half of prepared whipped cream.
Place one of the cooled cake layers on serving plate, cutting top to level if necessary. Brush cake generously with reserved liquid from pears being careful not to saturate the cake.Top with one third of the pear-whipped cream mixture, placing the next cake layer on top and then follow the same process you did for the first layer; repeat again for the third layer.
When cake is fully assembled, frost outside edges with plain whipped cream, then press walnuts into the sides. Pipe remaining whipped cream decoratively onto top of cake and chill overnight before serving.