I love it when the other members of my family get excited about food. Though they don't as a rule share my enthusiasm for all things edible, they do get pretty excited when I start talking beignets.
I first heard of beignets in junior high. A friend was cleaning out her pantry and gave me an old box of mix from Cafe du Monde because she knew I liked to cook.  That mix was so old that the hard, flat results it yielded were extremely unimpressive and I didn't think of beignets again until about 10 years ago.  Another friend was telling me about the fabulous New Orleans style doughnuts that a local restaurant made.  Well this friend forced me to try one and I must say, they were pretty good!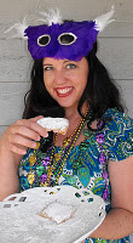 The closest I've come to visiting New Orleans is the Disney resort with that theme.  I know, it is probably very different from the real deal but they do make amazing beignets in their food court.  Our family ordered them for breakfast during our stay there and ever since they have become one of our family's favorite vacation traditions.  Now thanks to "The Princess and The Frog" the popularity of "Man Catching" beignets has grown.
I try not to make a habit of cooking things that are fried.  We all know that it isn't the healthiest of food options and it wasn't a habit I was used to as a kid.  I do, however, remember one occasion when my mom made doughnuts from scratch.  That special breakfast made such an impression on me that when my kids fell in love with beignets, I decided I would try to make them at home. I've devoted quite a bit of effort to finding a good recipe.  My family doesn't complain when they are part of the quality control team for a project like this.
During my research, I found three major techniques for making the dough used for beignets.  Some are made with a choux dough, using a technique similar to making a cream puff (boil water and butter, stir in flour, stir in eggs, roll and cut).  Yeast is used for other beignets; but, of course, this requires planning well in advance. And some beignets are made with a more quick leavening like baking powder, baking soda, or both.  I also tried a fresh box of the Cafe du Monde Beignet Mix and I have to admit, they are really good.  There are many recipes online that claim to be the same as Cafe du Monde but even those weren't quite as tasty as the mix.  The boxed mix yielded a more tender result that had the perfect balance of crunch and crumble.  I decided to start with the clues on their box–the ingredient list–and create a recipe of my own.  By using self-rising flour, this recipe has the convenience of quick leavening and I don't have to wait hours like I did with the yeasted recipes. Don't you just love it when the easier recipe also tasted better!  My son loved these so much he created a special sign for them on our breakfast table: "Yum Yum Beignets" (though he spelled beignet a little more creatively).
Per Serving 432 calories

Fat 21 g

Carbs 50 g

Protein 10 g

Ingredients

1 cup buttermilk (preferably whole)

2 eggs

2 tsp vanilla

¼ tsp ground nutmeg

Pinch of salt

3 cups self-rising flour, divided

Oil for frying

Powdered sugar

Directions

Heat oil for frying to 370° F. In a small bowl, whisk together buttermilk, eggs, and vanilla. In a large bowl, whisk together nutmeg, salt, and 2 cups of the self-rising flour. Create a well in the middle of the flour mixture; pour in the buttermilk mixture and stir gently to combine. Add enough additional flour to make dough workable, but don't knead more than is necessary or they will end up tough.

Flour a piece of parchment paper and gently roll out the dough, adding more flour, as needed, to prevent it from sticking to the rolling pin. Roll to 1/8" thickness and use a pizza cutter to cut into 3" squares. Brush off excess flour, lift squares of dough off the paper using a spatula for support, and carefully lower into hot oil. Cook in small batches so oil does not cool too quickly. Turn the beignets as they cook when the bottoms are golden brown. When golden on both sides, remove from oil with a slotted spoon and place on cooling rack to drain for a moment.

Place hot beignets in a paper bag filled with about 1 cup of powdered sugar and shake to coat generously. Remove from bag and enjoy while hot with a cup of Café au Lait.