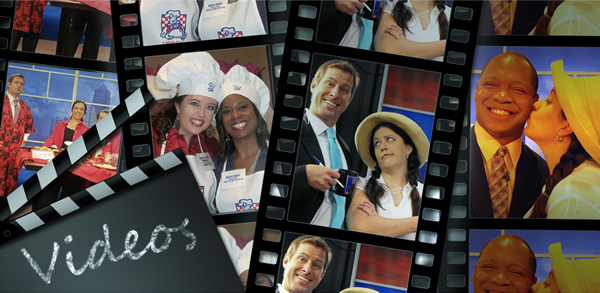 Navigation
Jessica's Videos
Stuffed French Toast
This delicious stuffed french toast will be a new family favorite for breakfast…or for dinner!
For Your Valentine
Max's Valentine Strawberry Hearts
Grilling Videos
Barbeque Rub
Great grilling tips and a tasty barbeque rub recipe.
1 TBSP ground black pepper
1 TBSP brown sugar
2 TBSP fine sea salt
1 TBSP dehydrated shallots, ground fine
1 TBSP Hungarian Paprika
1 TBSP thyme
Combine ingredients, store in an air-tight container
and use to season beef, chicken, pork, or vegetables
before grilling.  Coat whatever you want seasoned
with a little extra virgin olive oil then sprinkle
generously with this seasoning.
*If you like things extra spicy you can add 1 tsp
of white pepper and 1/2 tsp of ground cayenne pepper
to give this a tasty kick!
Steak & Potato Kabobs and Mustard Glazed Salmon
Two great grill recipes on one video!
First, easy-to-make Steak and Potato Kabobs will have them asking for more…
2 medium New York Strip Steaks—or steak of choice
4 medium shallots
8 small red skinned potatoes
2 TBSP fresh rosemary, minced
4 cloves of garlic pressed
½ tsp kosher salt
1 tsp fresh ground black pepper
¼ cup extra virgin olive oil
Bamboo skewers—soaked in water for 30 minutes
Combine rosemary, garlic, salt, and pepper.  Cut steak in 1 ½" cubes and coat with seasoning mixture.  Place potatoes in medium saucepan and bring to boil.  After potatoes have simmered for 5 minutes, add whole shallots.  Simmer until tender but skin is still intact then drain potatoes and shallots.  Add oil to steak mixture then stir in potatoes and shallots.  Alternate steak and potato on bamboo skewers; finish with a shallot on each.  Grill on preheated grill over direct high heat, 7-8 minutes for medium rare.  Turn regularly while cooking.
Next, WOW! your dinner guests with delicious Mustard Glazed Salmon.
Main Course Videos
Crab Cakes with Rémoulade Sauce
¾ cup soft bread crumbs
¼ cup mayonnaise
1 teaspoon Dijon mustard
2 Tablespoon sweet onion, finely chopped
1 egg beaten
½ teaspoon fresh parsley, minced
Salt and fresh ground pepper to taste
1 poundcrab meat, drained and flaked
½ cup all-purpose flour
1 Tablespoon extra virgin olive oil
Combine first seven ingredients and mix well, reserving crab meat, flour and oil.  Gently fold crab meat into mixture.  Shape into crab cakes of desired size, place on a plate and chill in refrigerator for about 30 minutes.  Heat the oil in skillet over medium heat.  Dredge crab cakes in flour then place in oil and fry until golden brown; turn and brown other side.  Drain on paper towels and serve with Rémoulade Sauce.
Serves 4
Dragon Chicken in Lettuce Leaves
This dish is not nearly as intimidating as it sounds. Though it is
called "dragon chicken"- you don't have to make it hot. If you like
spice, add Siracha when you assemble your lettuce cups. For extra
crunch you can also add fresh mung bean sprouts, chopped macadamia nuts,
peanuts, or water chestnuts (that have been rinsed and diced). This
will quickly become a family favorite in your household!
CLICK HERE to view the recipe.
Salad Videos
Garden Fresh Tomato Salad
A nice Tomato Salad to beat the summer heat.
CLICK HERE for the recipe.
Salad with Shrimp
Shrimp Salad with spicy Jack Cheese, avocado and fresh lime juice.
CLICK HERE for the recipe.
Tasty Treats Video
Delicious and Easy Tortilla Pizza
Don't call out for pizza, when you can make this quick and easy pizza so quickly at home…and it's delicious!  For each Pizza you will need:
2 large flour tortillas
1 TBSP extra virgin olive oil
3 TBSP tomato sauce
½ tsp Sriracha (optional)
¼ tsp sugar
½ cup Italian cheese blend grated cheese
2 TBSP Fresh chopped basil
Optional garnishes:
Crushed Chili Pepper
Fresh Grated Pecorino Romano
Preheat oven to 350°F.  Brush a pan with olive oil.  Place a tortilla on top then brush it with more of the oil and top with the other tortilla.  Combine the tomato sauce, Sriracha, and sugar for a spicy sweet sauce.  Spread this on your tortilla stack then top with the Italian cheese blend.  Place in the oven and bake for about ten minutes until cheese is melted and crust is toasted.
Homemade Snowcones
A healthy way to make an favorite summer treat!
Herbal Simple Syrups
3 cups granulated sugar
3 cups water
½ cup dried herb of choice or 1 cup fresh herb
Combine water and sugar in a small saucepan.  Bring to simmer and stir until sugar dissolves then immediately remove from heat (do not allow sugar to cook and caramelize–this will change the flavor).  Stir in the herb and allow to cool to room temperature.  Strain and store in refrigerator.  These are excellent poured over shave ice for a more "gourmet" option or stirred in iced tea as a flavored sweetener.  The syrup will keep for several weeks if refrigerated.
Homemade Carmel Corn
Tasty treat for parties, whether it's for Christmas, Halloween, birthdays or "just because.
CLICK HERE for the recipe.
Max's Superbowl Snacks – Pigs in a Blanket
Chef Jessica's 8-yr-old son, Max, is quite the cook too. In this video
he shares his favorite recipe so you can make them for your party.
1 package canned crescent rolls
8 hotdogs
2 cups grated cheddar cheese
Preheat oven to 350°F.  Unroll the crescent dough and fold it in half to create a long thin rectangle.  Press all seams together.  Sprinkle with half of the cheese and use a rolling pin to press the cheese into the dough.  Flip dough over and press remaining cheese into other side.  Cut each hotdog in half (so it is half the original length).  Cut the rolled dough into 16 equal size strips and roll one around each of the hotdog halves, pinching to secure the edge.  Line a baking sheet with aluminum foil; place prepared pigs in a blanket on the pan and bake for about 15 minutes or until dough is golden brown.  Serve with ketchup, mustard, barbeque sauce, or any condiment you prefer.
Serves 8