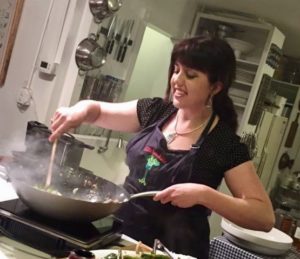 You don't have to own a wok to do a good job with a stir fry, I often use a cast iron skillet instead. The key is to have everything ready BEFORE you start cooking, cut all ingredients to cook in about the same amount of time, stagger when you add things to the pan, and don't try to cook too much at once. You can change the recipe to include your favorite vegetables.
If you wish to make this recipe gluten-free, substitute:
-tamari (wheat-free soy sauce) or
-liquid aminos (made only of soy or coconut)
instead of regular soy sauce; since wheat is a common ingredient in most soy sauces.
Per Serving 81 calories
Fat 5 g
Carbs 9 g
Protein 3 g
Stir Fry Vegetables—a delicious healthy treat!
Ingredients
1 TBSP extra virgin olive oil
½ large onion, sliced into wedges
2 cups small fresh broccoli florets
2 cups fresh sliced zucchini
1 cup sliced carrots
1 TBSP soy sauce
1 tsp sesame oil
Directions
Heat wok or skillet over high heat and add olive oil. Quickly add onion and stir fry until slightly browned. Add broccoli and carrot; cook while stirring about 1 minute then add remaining zucchini and cook until desired crispness. Add soy sauce and sesame oil, stir to coat.
Serve over brown rice, a whole grain noodle, or sautéed greens.