Touchdown Wings
1 cup crisped rice cereal
½ tsp black pepper
1 tsp garlic salt
½ tsp sugar
¼ tsp cayenne pepper (or more, if desired)
2 lbs of chicken wings (about 7 whole wings)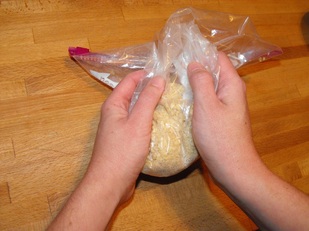 Preheat oven to 425° F. Place cereal in a large zipper bag; add black pepper, garlic salt, sugar, and cayenne. Squeeze out excess air; seal bag, and knead ingredients to crush the cereal and mix the ingredients. Place an oven safe cooling rack on your baking pan. Spray with non-stick cooking spray.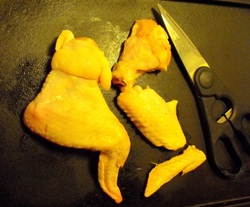 Cut the wings at each joint and discard the wing tips. Add a few of the wings to the bag of cereal and gently shake to coat on all sides. Place the chicken pieces on prepared baking pan so they do not touch each other. Repeat the process until all wings are coated.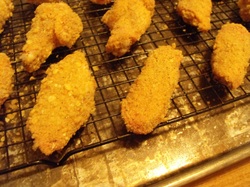 Bake until golden brown and cooked through–about 15-20 minutes, or longer depending on size of wings. By cooking them on the cooling rack, air can circulate and they will be crispy on both the top and the bottom.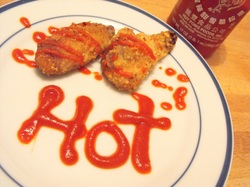 If you like them spicy pour on hot sauce or drizzle with Siracha chili sauce. For a spicy sweet option pour sweet chili sauce (like Mae Ploy) over the cooked wings. You can also substitute lemon pepper for the cayenne and black peppers.
Easy Ranch Dressing
1 cup Mayonnaise (I prefer Hellman's–it can be light or low fat version)
1/2 cup low fat buttermilk
1 tsp fresh squeezed lemon juice
2 cloves garlic, pressed
¼ tsp sea salt
2 tsp dry parsley
¼ cup green onions, minced
½ tsp dry dill
Fresh ground black pepper to taste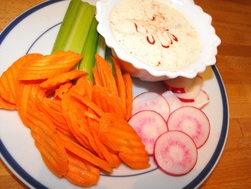 Pour mayonnaise, buttermilk, and lemon juice into blender. Add remaining ingredients and blend briefly. Can be stored in refrigerator for up to one week.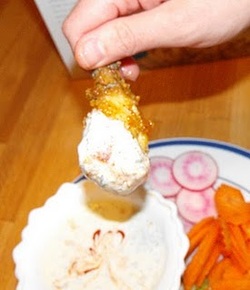 For an added kick, garnish with Siracha Chili Sauce; pour on a drizzle, then pull a toothpick through the sauces to create a pattern on top.
Sriracha is made from sun ripened chili peppers which are ground into a smooth paste along with garlic.