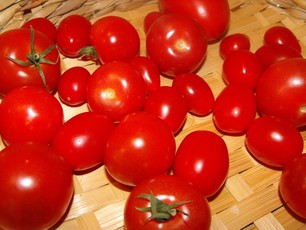 My husband loves tomatoes almost more than he loves me, and he really loves me!  He went to college in Indiana and still reminisces about the big juicy tomatoes that grew well there.  We've lived quite a few places since then and wherever we go, he seeks good tomatoes and tries to grow them himself.  Even when we lived in the Sierra Nevada mountains, where the temperature would drop drastically at night, he would painstakingly move our giant potted tomato plant out to our tiny balcony during the day and in for shelter at night.
With love like that he is a true tomato snob.  There are a few little details that he insists his tomatoes have:
They MUST be stored correctly!  If a tomato is refrigerated it will suffer a significant loss of both flavor and texture.  It is critical that whole tomatoes be store at room temperature, out of direct sun light.
They need to smell like a tomato–fragrance is one of the best indicators of flavor.  If you purchase a tomato and it has no aroma, then it probably will not have any flavor either.
They should be hand selected.  Some grocery stores opt to shrink-wrap packages of tomatoes to "protect" them.  This is also a terrific way to hide any blemishes and imperfections; and if it is wrapped in plastic, how will you know what it smells like?  Even with the tomatoes that come in plastic cartons, take the time to check every angle and open the top to make certain you are getting good tomatoes.
Lately there has also been a huge rise in the popularity of heirloom varieties of tomatoes, unlike the hybrids that have been bred to all look the same, taste the same, and hold up for the grocery industry (you know–the red baseball tomatoes).
We have tried growing and eating these older varieties every chance we get.  Our current favorite is the yellow pear–it is like a pear-shaped grape tomato.  It is has a mild flavor, nice texture, and adds color to a salad.  Check your local grocer, the farmer's market, or a garden shop to try some of these.
Per Serving 304 calories
Fat 9 g
Carbs 50 g
Protein 8 g
Summer! A great time for a tasty Summer Tomato Salad made with garden fresh tomatoes!
Ingredients
1 cup uncooked Israeli couscous
1 Cup garden fresh tomato chunks
½ Cup diced sweet onion
½ Cup pitted kalamata olives*
¼ Cup fresh squeezed lemon juice
2 TBSP honey
2 TBSP extra virgin olive oil
Fresh ground black pepper to taste
8 cups fresh baby spinach leaves
Directions
Bring 1 ½ cups of water to boil and add couscous. Simmer for about 8 minutes; drain any excess water and allow to cool. Stir together the remaining salad ingredients except spinach. Place a bed of spinach on each salad plate. Add couscous to tomato mixture and spoon a little on each of the piles of spinach and serve immediately. Kalamata* olives have a strong, salty, flavor. If you prefer, you could substitute regular black olives for milder flavor or omit the olives all together.
* Kalamata olives are named after the city of Kalamata in Messenia, southern Greece, near where they are grown. It is a large, black olive with a smooth, meaty texture, which is often used as a table olive. The Kalamata olive is usually preserved in wine vinegar or olive oil, often with a lemon on top.