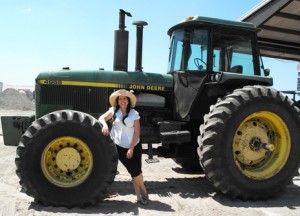 Last April, I happened to notice a post card in a local restaurant that mentioned an upcoming "Tour de Farm".  Curious, I visited the listed website:  www.slowfoodfirstcoast.com and decided I wanted to participate.
I am so glad I did!  I went with a friend and we had so much fun visiting a handful of the dozens of farms that were listed on the tour.  Our only regret was that we didn't have more time and visit all of them.
During our tour we headed to Hastings.  I had not ever been there before (and unless you are in the potato or cabbage business, you probably haven't either).  We hit Blue Sky Farms where we were able to get an up close look at the equipment used for potato farming, try some yummy samples of potatoes cooked by a restaurant from St. Augustine, and take a tour of the potato warehouse with the owner of the farm (yes, a REAL farmer!).  From there we drove to the Extension office nearby and learned about some of the University of Florida's efforts for sustainable agriculture in our area, tried even more samples of local fresh food, and toured some gardens.  Then we headed over to Tater Farms eager to dig our own potatoes.  We were able to dig up a small bag of spuds that they let us carry home and they were totally delicious for dinner that night!  Wandering around the country roads, we tried to find a few more farms listed on the tour and then ended up at an awesome farmer's market near the county line.  We stocked up on tons of fresh and delicious local produce and it was such a bargain at their roadside stand prices!
I cannot wait to go on the tour again this year and I'll be taking my kids along for the adventure.  I haven't decided on my route yet but it will probably include Twinn Bridges farm in MacClenny.  I recently visited them as part of a project I'm doing for WJCT and it is an awesome destination for all ages to learn more about farm activities.
This year the tour is scheduled for Sunday April 22, from 12:00 noon-5:00pm.  You can find details on the Slow Food First Coast website.  I recommend you plan your course in advance and don't waste a minute of the tour time (I wish I had started earlier last year).  You will probably be wandering some country roads and outside most of the day, so dress for the weather, wear sunscreen and a hat, and bring along plenty of water.  Also pack a cooler and bring cash so you can stop at the roadside stands or farmers markets and return with some delicious souvenirs that will make a delectable dinner!