I love curry!  For the longest time, like many Americans, I thought curry meant the yellow-colored powder from India.  I now know that "curry powder" is only one of many foods called curry.
When I was first introduced to Thai food, I fell in love with phad Thai.  I was more than a little anxious about trying one of the many options on the menu that had the description "curry".  Red, Green, Masaman, and Panang curries were listed with extensive ingredient lists.  When I noticed that fresh basil was listed as a key ingredient for the green curry, I was in.  Traditionally, the basil for this dish is Thai basil—if you cannot find that though you can use sweet Italian basil.
I now know that "curry" actually refers to many different blends of herbs and spices that are popular in Southeast Asia.  If you want to make your own curry paste, you can, but I have found that on a busy work night I often prefer the convenience of pre-made paste instead of grinding my own fresh green chilis, garlic, wild ginger, shallots, lemon grass, kaffir lime, sugar, galagal, coriander, cumin, cardamon, and turmeric.   If you want to make a vegan version of this dish, you can substitute soy sauce for the fish sauce.
Per Serving 311 calories
Fat 27 g
Carbs 19 g
Protein 5 g
Delicious dish that can be easily adapted with other vegetables or meat (chicken or shrimp)
Ingredients
2 TBSP coconut oil
1 medium onion, sliced
1 cup sliced carrots (1/4 " thick)
2 cups red skinned potatoes, diced
2 cups fresh green beans, snapped and whole
3 cups fresh broccoli florets
3 cups cubed eggplant—preferably Thai eggplant
2 TBSP (or more to taste) green curry paste (available in cans or jars with the Asian ingredient)
2 cans coconut milk
1 TBSP dark brown sugar
Fish sauce to taste
Crushed red chili peppers to taste
1 cup, packed, fresh Thai basil leaves, coarsely chopped
Directions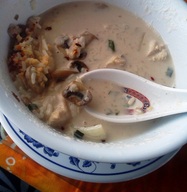 Heat coconut oil in a large wok over medium high heat. Add onion and carrot and cook while stirring quickly until the carrots are slightly tender and onion is translucent, then remove from pan. Steam potatoes until they are fork tender (2-4 minutes in microwave, slightly longer in steamer). Continue cooking all remaining vegetables, one batch at a time in the wok. Be sure not to over crowd the skillet and stir-fry vegetables until they are crisp but slightly brown on the edges.
When all vegetables are cooked, add coconut milk to the now empty wok; whisk in desired amount of green curry paste and bring to a boil; stir in brown sugar. Return all vegetables to the pan and stir together carefully.
Add fish sauce or soy sauce (for salt) and crushed peppers, if desired.
Stir in basil and serve immediately.
You can easily add chicken to this recipe or substitute other vegetables. By increasing or decreasing the amount of curry paste, you will be able to control the spiciness of this dish. Serve with Basmati or Jasmine rice and fresh basil to garnish.