This delicious and simple soup is perfect to enjoy on a cool day. We like to pair it with a grilled cheese sandwich or fresh salad. It freezes well and is a wonderful soup to make and share.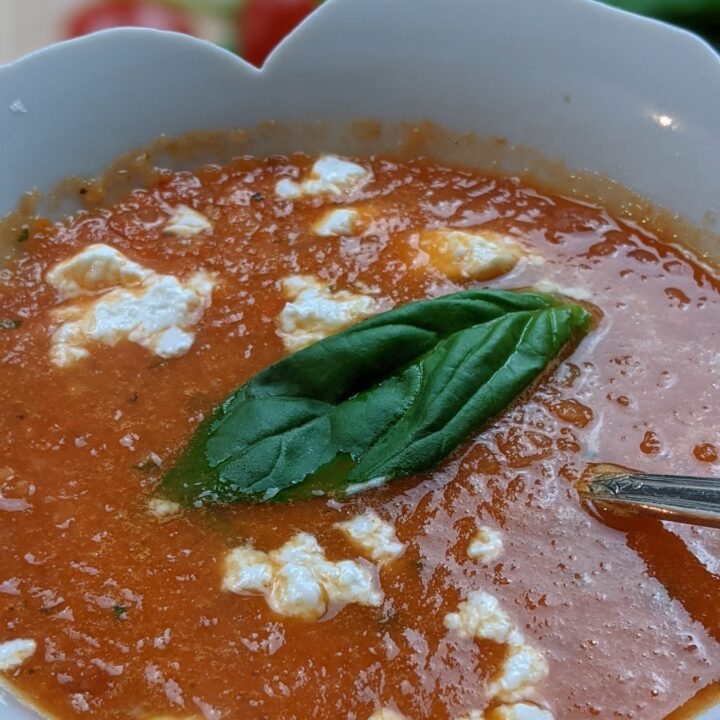 Terrific Tomato Soup
Total Time:
1 hour
10 minutes
This delicious soup is more hearty than some versions of tomato soup because of the additon of carrots and sun-dried tomatoes.
Ingredients
1 TBSP olive oil
1 cup chopped onion
¾ cup shredded carrot
1 TBSP minced garlic
1 TBSP minced shallots
1 tsp sugar
1 tsp KitchenAble seasoing
10 large basil leaves, divided
3 drained sun-dried tomatoes, packed in oil
2 (14.5 oz) cans diced organic tomatoes, undrained
1 tsp of your favorite hot sauce
2 cups vegetable stock
Garnish: 1 fresh basil leaf per bowl and crumbled chèvre or parmesan cheese
Instructions
Heat olive oil in a large saucepan over medium heat. Add chopped onion, shredded carrot, garlic, and shallots to pan. Cook 5 minutes or until vegetables are tender, stirring frequently. Add sugar, KitchenAble seasoniong, and 4 basil leaves that have been chiffonaded.

Cook 5 minutes. Add sun-dried tomatoes, diced tomatoes, hot sauce, and stock and bring to a boil. Reduce heat and simmer gently for 45 minutes. Remove from heat. Blend in blender or with immersion blender until smooth.

Divide among 6 bowls; garnish each serving with one basil leaf and cheese.
Notes
For a non-vegetarian version of this soup you can use chicken stock and top with grilled chicken.
For a creamy version of the soup add a splash of cream or top with crumbled chevre, let it soften and stir until smooth.