Okay, I'll admit it. I'm a little obsessed with tea… actually I have been most of my life. When it says "my cup runs over", I like to think they mean with tea, since tea makes me joyful (Psalm 23:5). For whatever reason, for as long as I can remember, I have been drawn to both the beverage and occasion of tea. Whenever an excuse comes my way– birthday, mother's day, friend coming over, sun is shining, sun is not shining, etc.–I like to make a pot of tea. If I happen to have enough time to expand on that and do the whole spread, that is my idea of an exceptionally delightful day!
With all of the talk in the news about "tea parties", I have secretly hoped that they will again become popular (even after the politics) as they once were when Anna (the mere duchess of Bedford…no, not the queen of England) started the fashion so many years ago…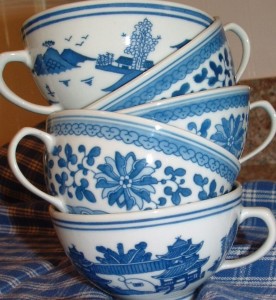 My personal history with tea began when my mom would boil the kettle on the stove and then pour hot water over the bag of whatever flavor of tea (raspberry, mint, Constant Comment, or Sleepytime) she had in the pantry. We always re-brewed the bag a time or two and I usually put a lot of sugar in my cup. Since then I've changed my tactics for making tea and extensively collected anything tea related. From my first tea cookbook (thank you again Aunt Becky…I think I was 11 then wasn't I?) to the numerous tea pots that I now refuse to count, there is evidence of my love for tea in every room of my house. At Christmas I even decorate one of my trees exclusively with tea themed ornaments.
More precious to me than the things that remind me of tea are the memories I have tied to the ritual. I learned a lot about the standard English protocol of afternoon tea while I worked at the Williamsburg Inn in Virginia. Perhaps because of my love for tea, the restaurant's afternoon tea service quickly became my responsibility to oversee. And to the dear lady who spent that rainy afternoon sending back pot after pot of "bad" tea, I hope you have since remembered that you must choose, lemon or milk, not both (even though we did give both to you). Lemon juice does make milk curdle,
I have dutifully consumed afternoon tea wherever the opportunity has come up. The collection of recipes below reflects a few of my favorite things to serve when the occasion arises. I prefer to base my tea service on the standard we served at the Inn,,,three courses: sandwiches, scones, and finishing with mini desserts.
After learning more about the intricacy of the Japanese tea ceremony in Honolulu, I realized that I probably lack the patience for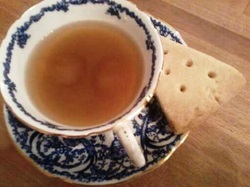 such a painstaking ritual. The Japanese woman who taught us the Omotesenke Tradition for tea in her Chashitsu (tea room) was  such a delight to learn from. In Chinatown San Francisco, I discovered and enjoyed the more flavor-focused approach to tea in a Taiwanese tea room.
One of my funniest experiences though was when I randomly served afternoon tea to the friend of a friend visiting from England. As I was brewing the pot "correctly" according to my guest (with loose tea), I discovered that my guest was actually the son of the President of the label of tea that I was serving. (Whew! Thank goodness I was serving the right brand that day!)
It did seem a little weird to sit under a Banyan tree in a courtyard on the beach in Waikiki at the Moana hotel and enjoy afternoon tea on their lanai. But I must say, displaced as it seemed, that is my personal favorite tea memory. Somehow the green tea ice cream they served as a fourth course made everything seem to fit…or maybe it was the gentle breeze from the ocean?
How to Brew a Perfect Pot of Tea
1. Fill a kettle with cold water and place on a stove to boil.
2. Warm the tea pot by filling with hot tap water. Pour water out.
3. Place loose tea in pot. Add one teaspoon for each cup being brewed and one "for the pot".
4. Pour boiling water into pot; place lid on.
5. Allow to brew for five minutes, then pour.
This is the standard procedure for black or Darjeeling tea. If, however, you are using white, green, rooibus, or matte teas, please check the label or tea vendor in case there are specific brewing instructions. You can pour though a tea strainer, let the tea leaves sink to the bottom of your cup, use a tea ball, or use bags if you prefer not to drink the tea with the leaves in it.