If you're searching for a quick and simple dinner that is more elegant than your standard fare, this easy shrimp sauté is a perfect option. Rock shrimp are recommended for the recipe but other varieties–or even scallops–can be used.
I recommend serving this dish over rice, but it is also delicious with pasta; or if you are seeking a low-carb option, spaghetti squash would be perfect.
Per Serving 161 calories
Fat 3 g
Carbs 14 g
Protein 14 g
A wonderful quick and healthy dinner recipe
Ingredients
TBSP Coconut oil
1 medium onion, chopped
1 lb rock shrimp, peeled and deveined
2 medium tomatoes, diced
1 cup sparkling or white wine
1 6 oz bag fresh baby spinach
1 can artichoke hearts, drained and rinsed
Salt and crushed red chili peppers, to taste
Cooked rice, pasta, or spaghetti squash (to serve with)
Directions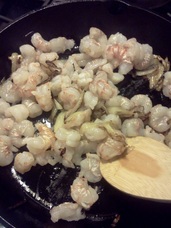 Heat coconut oil in large skillet over medium high heat. Add onion and shrimp, stir, and cook until onions are translucent. Add tomatoes and wine (or juice); stir to combine. Add spinach and gently fold it into the shrimp mixture so that the heat from the shrimp can allow the spinach to wilt. Quarter the artichoke hearts and add them to the pan. Stir and season as needed with salt and crushed red peppers.
Serve over rice, pasta, or spaghetti squash.