I love being a mom. Of course, it is easy to do that when you have two of the sweetest kids in the whole wide world.
I also love kumquats and thought that in honor of Mother's Day, I would share one of my favorite recently developed recipes with this awesome ingredient.
It is best to find very fresh kumquats—preferably picked at their peak. When purchased from grocery stores, these small citrus fruits tend to be significantly less flavorful, so it is worth the effort to find a local source if you live in a climate where these grow. My favorite variety is the oval shaped Nagami. For this fruit, you can eat the whole thing- seeds, skin, and all. The tart sweetness is packed with citrus flavor.
A gingersnap crust adds a nice spicy base flavor while the mile high meringue balance out the tartness, creating a wonderful dessert that is delicious and not too heavy.
Sunshine and Happiness Pie
Per Serving 245 calories
Fat 9 g
Carbs 39 g
Protein 3 g
Sunshine & Happiness Pie Topped with Mile High Meringue
Ingredients
Gingersnap Crust
1 ½ cups ground gingersnaps
¼ cup sugar
½ stick butter, melted
Filling
1 cup sugar
2 TBSP all purpose flour
¼ cup cornstarch
1/4 tsp salt
1 ½ cups water
1 cup kumquat puree
6 large egg yolks
2 TBSP butter
Meringue
6 egg whites (at room temperature)
¼ tsp salt
6 TBSP sugar
2 tsp vanilla extract
Directions
Preheat oven to 350° F.
Gingersnap Crust
Stir together gingersnaps and sugar, mix in melted butter. Press mixture into the sides and bottom of a pie pan in an even layer, being careful not to make it too thick where the edges and bottom meet. Bake at 350° F for 10 minutes.
Pie Filling
Prepare kumquat puree by washing kumquats. Place whole fruit in a powerful blender and blend until smooth and the bright green seeds are no longer obvious. It is best to do this with a very powerful blender. If kumquats are not available, you can also use the juice and zest of a sour orange to equal 1 cup.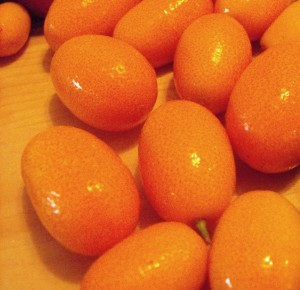 In a medium saucepan, whisk together the sugar, flour, cornstarch, salt, water, and kumquat puree. Bring to a simmer over medium-high heat, whisking as it thickens. Place egg yolks in a small bowl (setting aside whites for meringue). When sugar mixture is thick enough to coat the back of a spoon, whisk ½ cup of it into the egg yolks. Quickly whisk egg mixture into the simmering sugar mixture. Stir constantly while mixture cooks and thickens to a custard-like consistency. Stir in butter. Pour into baked pie crust.
Meringue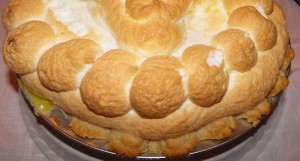 Make meringue by beating egg whites in a very clean glass or metal bowl (any grease or residue can prevent the whites from whipping). Add salt and beat until soft peaks form. Add sugar, 2 TBSP at a time, and beat until meringue is glossy and forms stiff peaks.
Using a spatula, scrape the meringue into a gallon size plastic bag. Cut a corner from the bag and pipe the meringue in a circular pattern to cover the entire pie, crust to crust.
Place pie in oven and bake until meringue is golden brown, about 10 minutes. Allow to cool to room temperature and then refrigerate.
When ready to serve, use a wet knife to cut so the meringue won't tear.