I visited my friend, Beth, one morning last week and found her family devouring these delicious ham and cheddar muffins.  When she offered one to me, I tried to politely decline, but they smelled SO delicious (and I hadn't eaten a thing for breakfast yet).  I am so glad I indulged, they were awesome!  She explained that this was her solution for using up some of the ham they had frozen after her Thanksgiving feast.
I love visiting Beth's house, even though she shames me with her incredible planning and efficiency in the kitchen.  Almost every time I am there she is preparing something for her four children (three of them hungry boys) to eat.  She follows recipes precisely, plans every bite of her weekly menu, and grocery shops like a pro. This dish was just another example of how thoroughly she plans.  She froze the ham on the day it was initially prepared (thus eliminating waste or danger of food poisoning) and had chopped and pre-measured amounts for future recipes.
Even if you don't have the advantage of leftover diced ham for this recipe, you can easily use some from the deli.  I made a few minor changes to the original recipe since I don't like to use baking mix or shortening.
Per Serving 214 calories
Fat 14 g
Carbs 13 g
Protein 10 g
Easy breakfast biscuits you can make with leftovers
Ingredients
2 1/2 cups all-purpose flour*
2 TBSP baking powder
1 TBSP sugar
1/2 tsp salt
1/2 tsp fresh ground black pepper
1/2 cup butter
3 TBSP extra virgin olive oil
1 large sweet onion, finely chopped
3 cups grated sharp cheddar cheese
2 cups finely diced cooked ham
1 cup milk
2 eggs
Directions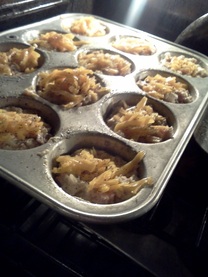 Preheat oven to 425°F. Whisk together flour, baking powder, sugar, salt and pepper. Use a pastry blender or your food processor to cut in and completely mix the butter into the flour mixture. Heat olive oil in a skillet over medium high heat and sauté the onion until translucent; remove from heat.
Add 2 cups of the cheese to the flour mixture and stir to mix, then stir in the ham and onions.
In a small bowl whisk together the milk and eggs (add 1 tsp Tabasco sauce or more if you want to make them spicy). Create a well in the flour mixture, pour in the milk mixture and fold to mix evenly.
Spray enough pans for 24 medium muffins with non-stick cooking spray. Use a small scoop to evenly fill each muffin cup. Top each muffin with a little of the remaining 1 cup of cheddar cheese.
Bake for 15 minutes or until golden brown. Remove from oven and allow to cool for 5 minutes before removing from the pan.
*This recipe can be made with all-purpose flour, whole wheat flour, whole wheat pastry flour, white wheat flour, or any combination.