As the temperatures climb, our desire to spend time in a hot kitchen preparing a heavy meal seems to decline. Lettuce cups have become a popular menu item in many restaurants. Their Asian flavors and refreshing crunch make them satisfying to many.
In our home, "lettuce tacos" (as our 6-year-old calls them) are a popular favorite for both dinner, and if any manage to be leftover, they are enthusiastically welcomed as leftovers for lunch.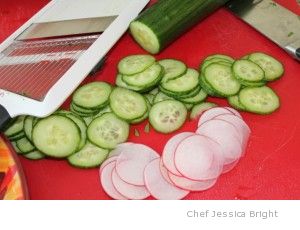 Many variations of this recipe exist. You can easily modify what goes in it to suit your family's taste. The cucumber and radish salad is a wonderfully refreshing side dish or accompaniment. Siracha* and Mae Ploy add wonderful flavor and spice and can be added by individuals to their preference.
To round out the meal, serve jasmine tea (hot or iced) and fresh pineapple!
Per Serving 39 calories
Fat 0 g
Carbs 6 g
Protein 2 g
Ingredients
1 English hothouse cucumber
1 small bag radishes
½ cup rice vinegar
1TBSP soy sauce
¼ cup water
1 TBSP fresh minced cilantro
Crushed red pepper flakes or black pepper to taste
Directions
Rinse and thinly slice cucumber and radishes (if you have a food processor with a slicing attachment or mandoline use that). Combine remaining ingredients and stir everything together. Store in refrigerator for a minimum of 30 minutes and serve as a salad or garnish for lettuce cups.

* Sriracha is made from sun ripened chili peppers which are ground into a smooth paste along with garlic.