The June Issue of Coastal Angler Magazine is available now in Jacksonville, St Augustine, and surrounding areas.  Pick up your free copy now at any area Gate Convenience Store, or any of the other locations that keep it stocked. The Recipe below is featured in this month's issue of the magazine.
This weekend is the Second Annual Fishing Rodeo and I will be at the Gate tent at Metro Park with a few extra free copies of Coastal Angler—so please stop by, say hello, and grab a copy.
Per Serving 600 calories
Fat 32 g
Carbs 45 g
Protein 44 g
A delicious dinner salad for 2
Ingredients
1 lb peeled and deveined shrimp
2 ears of fresh sweet corn, shucked
1 TBSP extra virgin olive oil
Salt and pepper
1 medium avocado diced
¼ cup fresh squeeze lime juice
1 cup diced tomato
¼ cup grated jalapeno jack cheese
½ cup chopped fresh cilantro
2 medium green onion, diced
1 tsp sugar
Salt and pepper to taste
6 cups butter lettuce, washed and torn
Directions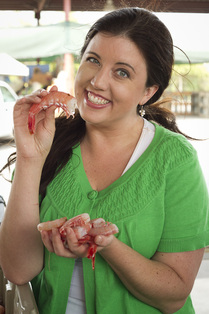 Coat the shrimp and ears of corn with the olive oil and season with salt and pepper. Grill over medium heat until the shrimp are cooked through and the corn is golden brown. Remove from heat and allow to cool.
Carefully cut the corn kernels from their cobs and combine the kernels, avocado, lime juice, cheese, cilantro, and green onion. Season with sugar, salt, and pepper; gently stir.
Place the lettuce on each plate, and top with half of the corn mixture. Top each salad with grilled shrimp and enjoy.
Serves 2 as a dinner salad.
---
Photo Courtesy of Cheryl Balara