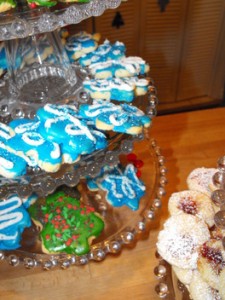 Here are my favorite tried and true sugar cookie recipes.
This dough and the following glaze and icing recipes are perfect for your holiday cookies.  It is fun not only to make and eat these cookies, but also a great excuse for a cookie decorating party or a wonderful option for a gift you can make and give.
Per Serving 107 calories
Fat 4 g
Carbs 16 g
Protein 1 g
Perfect cookies for the holidays or a special celebration!
Ingredients
½ cup butter
1 cup sugar
1 egg
½ tsp salt
2 cups flour
2 tsp baking powder
½ tsp vanilla extract
Directions
Cream butter and sugar together, add egg and vanilla, and mix together. In a separate bowl, combine remaining dry ingredients and whisk together. Gradually add dry ingredients to creamed mixture, and then mix well.
Preheat oven to 400°F. Dough can be rolled out and cut with a cookie cutter, dropped with a scoop and flattened, or formed into a log and sliced. Bake 8 to 10 minutes until done but not yet browned.
Allow cookies to rest on the pan for a few minutes after removing from oven before transferring to a cooling rack. Do not allow them to cool completely on cookie sheet or they will stick.
With this recipe, the cookies are ready to roll as soon as you mix it all together. It is also easy to double or even triple. If you want to bake your cookies ahead, they can be frozen in an airtight container. Wait to frost or decorate until after they are thawed since the moisture may cause the colors to run.
Easy Cookie Glaze
2 cups powdered sugar
2 TBSP light corn syrup
3 TBSP cream (with a little extra if needed)
½ tsp food coloring
Whisk sugar to remove any lumps. Stir in corn syrup, cream, and food coloring. Whisk until smooth. Add food coloring and a little additional milk if you prefer it less thick. Use a pastry brush to paint the cookies or dip the tops. Decorate with sprinkles if desired; allow to dry for several hours before stacking.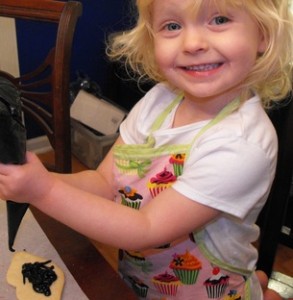 Wilton's Recipe Royal Icing
Make certain bowl and utensils are grease free so they don't cause the icing to break down. This dries quickly so keep bowl covered with a damp cloth at all times.
3 TBSP meringue powder mix
4 cups (approx 1 lb) confectioners' sugar
6 TBSP water (use 1 TBSP less of water if beating with heavy duty mixer)
Beat all ingredients on low speed for 7-10 minutes (or 10-12 minutes on high speed for a portable mixer) until icing forms peaks. Icing can be stored in an airtight container and re-whipped before using. Yield 3 cups.
For shiny icing, stir in 1 TBSP corn syrup for each cup of prepared icing.
NOTE:
* Calories indicated by Edamam are for cookies only. With icing, calories - 212 per cookie