Soft pretzels are a wonderful fall tradition…perfect to serve with your favorite beer to celebrate Oktoberfest. They are delicious dipped in a spicy mustard or warm caramel. You can also create delicious pretzel dogs that are sure to be a hit at your Halloween party. For a fun seasonal design, you can wrap these to make mummy dogs or pretzel bones as demonstrated in the video.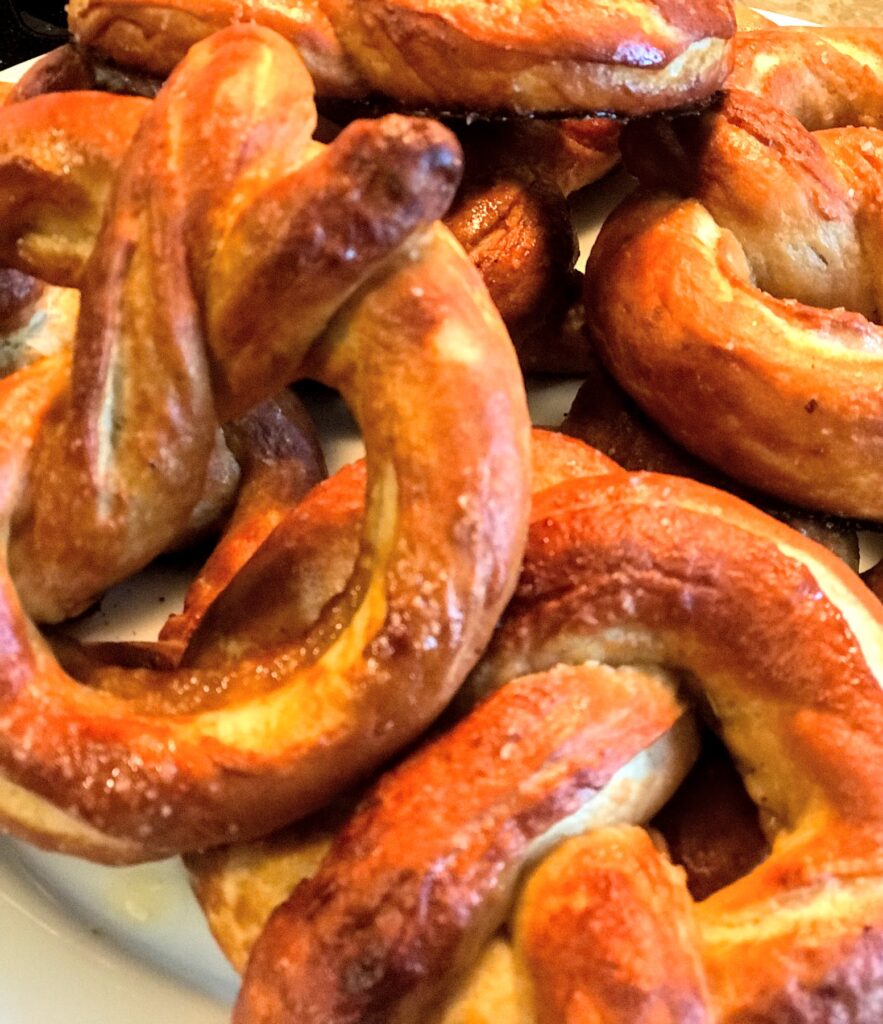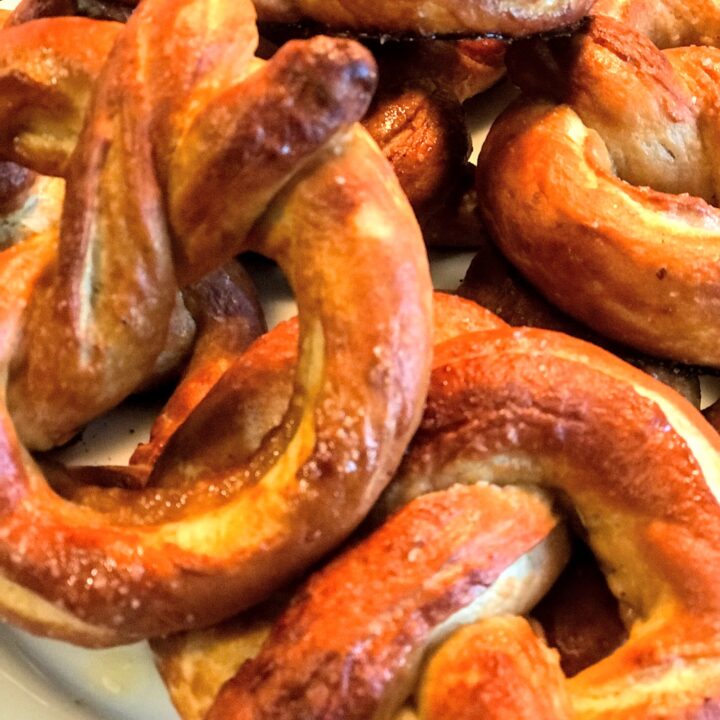 Soft Pretzels
Prep Time:
1 hour
10 minutes
Total Time:
1 hour
22 minutes
Delicious soft baked pretzels.
Ingredients
1 cup whole milk
1 package active dry yeast (2¼ tsp)
3 TBSP packed brown sugar
2¼ cups all-purpose flour, plus more for kneading
2 TBSP butter, softened & diced
8 TBSP butter, melted
3/4 tsp fine salt
⅓ cup baking soda
2 TBSP coarse salt
Instructions
In a small saucepan warm the milk to 110°F; in a medium bowl whisk together the yeast and warm milk; stir in the brown sugar and let sit for 5 minutes. Stir in 1 cup flour and 2 TBSP soft butter. Add the remaining 1¼ cups flour and the fine salt to make a sticky dough. Turn the dough out onto a lightly floured surface and knead, adding more flour if needed, until smooth but still slightly tacky, about 5 minutes. Shape into a ball, place in a large greased bowl, turn dough over so it is greased on top too, and loosly cover with plastic wrap. Let rise in a warm spot until doubled in size, about 1 hour.

Preheat the oven to 450°F and line baking sheet with parchment. Punch the dough to deflate it, then turn out onto a lightly floured surface. Divide the dough into 6 pieces. Roll and stretch each piece with the palms of your hands to form a 30-inch rope. Form each rope into a pretzel shape.

Dissolve the baking soda in 3 cups warm water in a shallow glass dish. Gently dip each pretzel in the soda solution, then arrange on the parchment lined pan, sprinkle with the coarse salt.

Bake until golden, 10 to 12 minutes. Brush the cooked pretzels with the melted butter. Serve warm. (recipe adapted from Food Network)

Notes
These are delicious topped with salt as described or try the following:
-brush with garlic butter and top with parmesan cheese
-brush with butter and dip in cinnamon sugar
-top with sesame seeds (or poppy seeds) instead of salt before baking
For Pretzel dogs wrap rope of pretzel dough around hotdog and bake as instructed above.
Serve pretzels with your favorite mustard or for a sweet alternative dip in warm caramel.