I don't really remember having smoothies when I was a child. milkshakes, orangeades, lemonades, and other yummy concoctions come to mind, but I don't think "smoothie" was a recognized food term at that time; or if it was,my family did not use it. Now, however, it has become one of my kindergartner's favorite breakfast options. I must also confess that it was one of my 1-year-old's first food terms (first was chocolate, the others were milk and hot tea).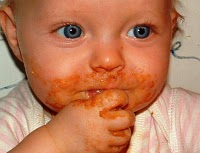 There are some yummy places to buy a smoothie, but in my opinion they are very expensive. Here are a few pointers and recipes to help you make very tasty smoothies at home without investing too much time or money.
First, the blender! You need a good blender with a dependable motor. This does not mean that you have to go out and spend hundreds of dollars, but if you do have a really inexpensive model, go easy on blending so you don't burn out the motor. Always make certain you have enough liquid around the blade, and add the ice more gradually after everything else is very smooth. If, however, your blender is powerful, just throw it all in at once and blend…with the lid on!
Fruit: The fruit is also very important to your smoothie. Fresh is not the only option. If you are buying fruit at its peak in season, either use it or freeze it within a few days. If the fruit is not in season or you are in a hurry, consider using frozen fruit pulp. I recently discovered these in the ethnic frozen section of my local grocery store (I use the Goya brand). They range in price from $1.50-$3.00 for 1 1/2 to 2 cups and come in flavors like: mango, guava, passion fruit, coconut, pineapple, plum, mandarin, and more. Another excellent option is frozen fruit. You can buy this prepared or make your own. For berries: rinse, dry (with a salad spinner or paper towels), spread on a baking sheet lined with parchment and freeze for 30 minutes; then pour into a freezer safe container. For other fruits (banana, peach, pear, etc.), prepare as you would to go in the blender (removing seeds and peel if necessary). Then place on a baking sheet and freeze as you did the berries. Even in the freezer, the fruit will continue to ripen over time and change color–though much more gradually–so use within a couple of weeks. If you luck out and find a good deal on fruit at the farmer's market or grocery store, you can easily stock your freezer for future smoothie making.
Liquid: For some smoothie recipes, you'll need to add a little liquid to get things blending smoothly. You can use juice, milk, or water–depending on your preference and recipe. If you use juice, it can also add a lot of sweetness to your smoothie (especially options like white grapes and apples).
Ice: Ice is optional. If I am not using frozen fruit, I normally add it.
Sweetener: Most fruit is pretty sweet to begin with so use sparingly. I prefer honey as a sweetener.
Protein: By having a combination of carbohydrates (fruit) and protein, you'll feel full longer. I like to add yogurt to my smoothies to accomplish this. If, however, you prefer not to add yogurt, you can omit that and add protein powder or go without. (Check out Greek style yogurt if you haven't already done so. I love the Cabot brand because it is less expensive. This yogurt has even more protein than the regular yogurt.) And…if you have any leftover smoothie, it is terrific to re-freeze and add to the blender the next time you're blending some smoothies.
Quick and Easy Breakfast Smoothies
It is not always easy to squeeze in the 5 servings of fruits and vegetables that are recommended in our daily diets. Smoothies are a fun, fast, and easy way to start off the morning, getting closer to that goal. Frozen prepared fruit is available in the freezer case at the grocery store or you can plan ahead to freeze your own. (I like to do this by stocking up when produce is in season and on special.) By adding yogurt, you are also getting closer to your daily milk needs.
Banana & Berry Smoothie
1 cup plain yogurt
1 cup frozen berries (blueberries, blackberries, strawberries, raspberries or a blend)
1 fresh banana
Honey, to taste, if desired
Combine everything in the blender and pulse until consistently smooth. Add a little water if necessary to blend. Can also be done with any other fruit you prefer. Serves 2
---
Fresh Fruit Smoothie
Equal parts:
Frozen fruit of choice
Yogurt (I prefer plain)
Juice (100% juice without added sweeteners)
Combine everything in a blender and blend until smooth.
I like to stock up on whatever fruit is in season and on sale at the farmer's market. Wash, peel if necessary, and then freeze. Throw it into the blender when it is time to make a smoothie.
Tasty combinations:
Mango, banana, plain yogurt, and white grape juice
Banana, blueberry, plain yogurt, and white grape juice
Peach, raspberry, plain yogurt and peach juice
Tropical Fruit Smoothie
I recently discovered frozen fruit pulp in the ethnic food section at my local grocery store. I've been thrilled with the convenience and flavors available. Run hot water over the bag for a few seconds before cutting it open and the pulp will come out more easily.
1 package passion fruit pulp (Goya- Fruta)
1 large ripe mango, peeled and cubed
2 cups ice
1 cup Greek style plain yogurt
Combine everything and blend until smooth. serves 3
Other wonderful combinations:
1 package frozen mango pulp + 1 ripe banana + ice + yogurt
1 package frozen guava pulp + 1 cup strawberries + ice + yogurt
1 package frozen mango + 1 cup pineapple + ice + yogurt
Mocha Breakfast Smoothies
1 cup skim milk (or fat free half and half)
1 tsp vanilla extract
1 TBSP cocoa powder
1 TBSP instant coffee powder
Sweetener of choice to taste (stevia)
¼ cup vanilla yogurt
A dash of cinnamon (optional)
1 cup ice
Throw everything in your blender and blend until smooth. For variety change the type of extract (try almond or mint) or don't use any and instead use a flavored coffee creamer — but read the label so you don't end up adding too many calories or too much fat. 1 serving