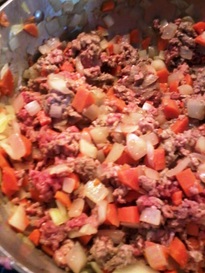 When I was a kid one of my mom's signature dishes was Shepherd's Pie. I didn't realize at the time that what she made was technically considered Cottage Pie because she used ground beef. This yummy concoction was a favorite of the men in my family for its classic combination of meat and potatoes. A true Shepherd's Pie is made with ground lamb, and I occasionally make the same dish with ground venison and call it Hunter's Pie.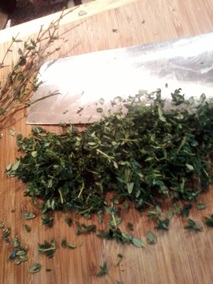 This is a truly authentic Irish dish, and comes in a variety of versions. Some styles (like my mother's) have a tomato based sauce coating the meat. Others have a sauce more like brown gravy. Though my mom didn't use wine in her recipe, I like the flavor it adds (you can leave it out if you prefer). The vegetables that are added to the meat are really up to the preference of the chef. They almost always include carrots, onions, and green peas. Other popular options are: green beans, parsnips, mushrooms, corn, lima beans, and celery.
Since I made this dish for an Irish friend, I tried to make it the way his mother does. It has less vegetables than the version my mom makes and it was a huge hit with my family.
Shepherd's Pie or Cottage Pie
Per Serving 371 calories
Fat 18 g
Carbs 36 g
Protein 12 g
Everyone's favorite savory meat pie topped with mashed potatoes
Ingredients
1 TBSP extra virgin olive oil
3 large carrots, peeled and diced
1 large onion
1 lb ground meat of choice (beef, lamb, venison or combination)
1 cup fresh sliced mushrooms
1 tsp ground black pepper
2 TBSP fresh thyme, minced
2 TBSP flour
1 cup red wine
1 TBSP Worcestershire sauce
1 TBSP tomato paste
1 cup frozen peas
Salt to taste
8 cups of mashed potatoes
Directions
Heat oil in a large pan over medium heat; add carrots and onions and sauté until the carrots are slightly tender. Add meat and crumble while cooking until cooked through. Drain off any excess fat and add mushrooms; cook until tender. Add pepper, thyme, and flour—stir to coat. Add next three ingredients and stir to coat. Allow to cook until simmering. Add peas and adjust seasoning.
Pour mixture into a large baking dish and smooth into an even layer. Top generously with mashed potatoes and bake about 20 minutes at 350° F.
NOTE:
I like to double the recipe when I make this—then I eat one and freeze one.