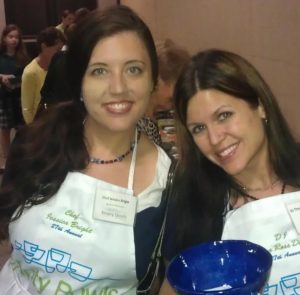 I've had a few birthdays for favorite people lately, and those people happen to love peanut butter. My grandfather just turned 80 and his favorite candy is–you guessed it! Reese's! For those of you that listen to The Promise radio, you probably already know that they call Theresa "Resa" not only because it is an abbreviation of her name but because of her affinity for Reese's peanut butter anything!  So, with the pressure of birthday parties to prepare for, I spent a little time in the kitchen and came up with a wonderful (at least according to a few of my taste testers) peanut butter frosting recipe that just happens to be delightful on a fudge brownie or anything else available.
For my grandpa's surprise party I created a huge fudge brownie cake that was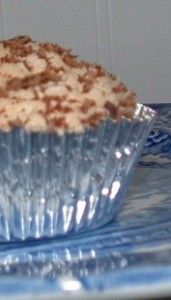 smeared with ganache and peanut butter frosting. I learned at the party that this rich dessert can be decadent, so I decided it would do well for mini fudge brownie cupcakes. I then proceeded to make them for my friends, Betsy and Theresa, and they were a hit at both parties.
I hope you enjoy this recipe!
Per Serving 104 calories

Fat 5 g

Carbs 15 g

Protein 1 g

Ingredients

Wet Ingredients

1 2/3 cup granulated sugar

¾ cup butter, melted

2 tsp instant coffee

2 TBSP water

2 large eggs

2 tsp vanilla

Dry Ingredients

1 1/3 cup all purpose flour

¾ cup Nestle Cocoa powder

½ tsp baking powder

¼ tsp salt

Directions

Preheat oven to 350° F .

Combine sugar, butter, and water in large bowl. Stir in coffee, eggs, and vanilla extract. In a separate bowl, whisk together dry ingredients. Stir into sugar mixture then scoop into mini foil baking cups, only filling ¾ full, and bake about 10-15 minutes (you want them to be fudgy in the middle).

Cool then frost with Peanut Buter Frosting. Yield: 33 mini cakes

* NOTE: "Mini" foil baking cups (these do not require a muffin pan)