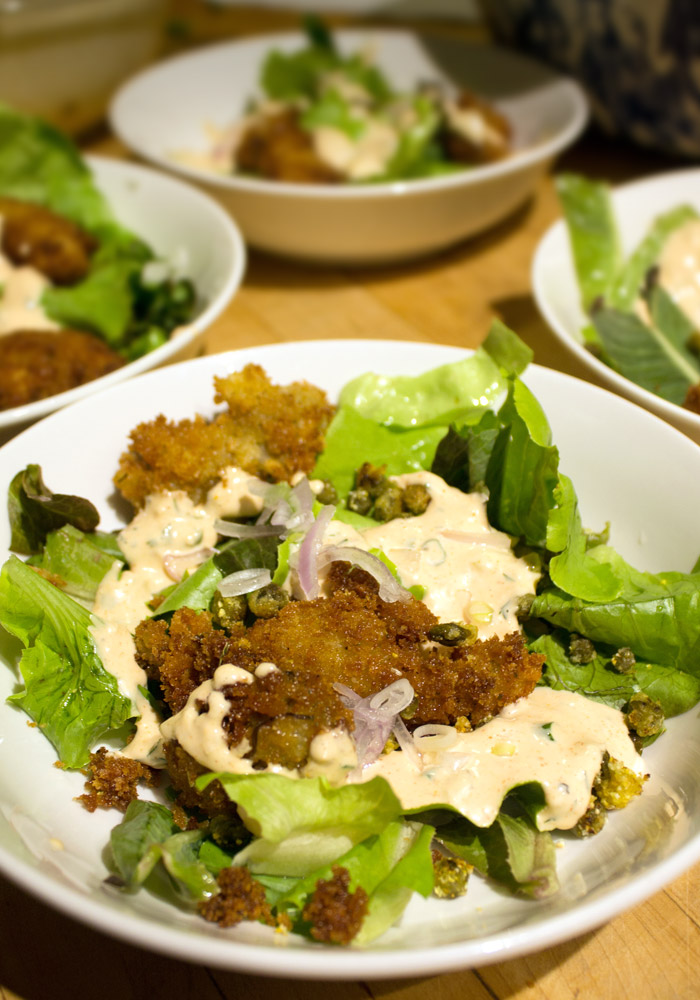 Thousand Island, period.  That was the dressing of choice according to the ruler of the roost in my childhood home.  Fortunately, we technically did have other options but I learned quickly that if there is a "type" of dressing that the men in the South seemed fond of, the odds were that it would be Thousand Island.  This is ironic given the supposed Canadian origin of Thousand Island dressing.
Names, flavors, and recipes go in and out of style and this recipe with a French name may sound more gourmet but comes mighty close to offering the same flavor that the patriarch of my family found so dear.  As a professional caterer, I do sometimes have to fancify the names of foods so they'll get the attention they need.  Trust me though- this dressing won't disappoint.  It's also delicious as a dip for fried food or as a "special sauce" like the Panko Fried Oysters.
I'm exceptionally fond of horseradish and sometimes add extra if this is being used as a dip (or I'm making it for myself alone).  Be careful though, when choosing the horseradish for this recipe that you use the most basic of preparations – you do not want to substitute horseradish "sauce" by mistake as it will lack the strength of flavor you need to accurately convey the recipe.  This recipe was featured in the August issue of Old City Life Magazine.
Ingredients
½ cup mayonnaise
2 tsp ketchup
1 tsp Dijon mustard
1 tsp Sriracha (rooster or chili sauce)
2 TBSP prepared horseradish
1 TBSP grated shallot 1 cornichon
¼ tsp smoked paprika
¼ tsp salt
½ tsp fresh parsley, minced
Dash of cayenne pepper
Fresh ground black pepper to taste
Directions
Combine ingredients in bowl and whisk together well. Serve with fried seafood, burgers or as a dressing on a salad.