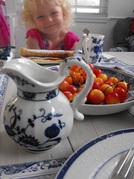 Crepes, the thin French pancakes, have long been a favorite treat.  They are quick and simple to make, as long as you have a good non-stick pan.
The only drawback is that they aren't incredibly healthy.  By adding grain and changing the flour you use though, you can significantly improve this, making a french delicacy a source of whole grain.
Wholesome Breakfast Crepes
Per Serving 534 calories
Fat 22 g
Carbs 64 g
Protein 21 g
Whole grains make this French delicacy more healthy
Ingredients
½ cup quick oats
½ cup whole wheat pasty flour*
½ tsp kosher salt
1 tsp double acting baking powder
2 TBSP confectioner's sugar
2 large eggs
1 cup skim milk
2 TBSP canola oil or non-stick cooking spray
Directions
Pour the oats into the blender and blend until it is ground fine. Add the flour, salt, baking powder, and sugar; then mix until well blended. Add the eggs, milk, and zest to the blender and blend about a minute until batter is smooth.
Heat a 10-inch non-stick frying pan over medium heat and brush the surface with the oil or spray with cooking spray. Pour slightly less than ¼ cup of the batter on the hot pan and tilt the pan to evenly coat the bottom. Allow to cook until bubbles appear and the crepe begins to appear drier on top. Gently turn the crepe over and allow it to cook for a few more seconds on the other side.
Remove from pan. Cook remaining batter and stack the crepes together as you finish making them. The recipe should yield about 10 crepes. Prepared crepes can be used immediately or stored in the refrigerator for up to 2 days.
Garnish with whipped light cream, powdered sugar and fresh fruit.
* Whole wheat pastry flour is ground more fine than standard whole wheat flour which results in a less "gritty" texture.