I keep seeing food blogs that positively gush about "Congo Bars".  I didn't realize Africa was really famous for a cookie, so the name caught my attention.  I did a little research and quickly discovered that what they were referring to is what I would call a Blondie.  I have to be honest–Blondies really aren't my thing.  If I'm going to eat dessert, it might as well be chocolate!
However, fate intervened and I needed a shipshape dessert that would suffice for a crew of friends as we go for an afternoon sail.
As you know, chocolate isn't necessarily seaworthy on a hot humid day.
I decided to experiment a little and shiver me timbers, this take on the Congo bar recipe will make you glad you argh eating them!  Of course, pirates like their rum…so it does have that favorite flavor and a little mango (though you can substitute peach or nectarine) to keep the scurvy away!
Hopefully me mateys will enjoy this treat as we sail off into the sunset.
Per Serving 253 calories
Fat 16 g
Carbs 27 g
Protein 3 g
An imaginative dessert bar featuring toasted pecans, coconut, tropical fruit and rum flavoring...great for an outing!
Ingredients
1 ½ cup all purpose flour
1 tsp baking powder
½ tsp fine sea salt
12 TBSP melted unsalted butter
2 eggs
2 TBSP Rum extract
1 ½ cup packed dark brown sugar
1 cup toasted pecans (chopped coarsely)*
1 ½ cup toasted unsweetened coconut flakes*
1 cup diced mango (peach or nectarine)
Directions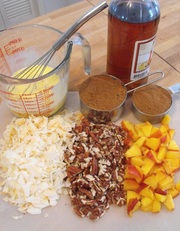 Preheat oven to 350°F. In a medium bowl, whisk together the flour, baking powder, and salt. Melt the butter and allow to cool slightly; then whisk in the eggs, rum, and brown sugar. Fold together all ingredients and mix until just blended.
Line a 9x13 baking pan with foil and spray with non-stick cooking spray. Use a spatula to evenly spread the batter into the prepared baking pan and bake about 30-35 minutes, or until the top is slightly dry.
Cool in pan then cut and serve.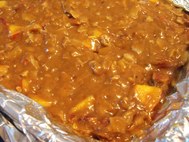 Did I mention?…
I'm a little obsessed with my privateer (or pirate) ancestry at times. But you would be too if you were related to Blackbeard!
I was also born at the ECU college of medicine, so technically I was delivered by pirates too.