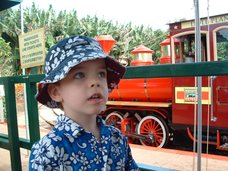 Now, 14 years, two kids, and many frequent flier miles later I feel like I too can claim kamaina (that's Hawaiian for local).  If you added up all of the time we have spent there, it is almost 6 beautiful months filled with sun, sand, sushi, and adventures. When I first met my husband and he told me he was from Hawaii, it didn't really sink in.  I thought he meant Hawaii, Ohio, or that he had been there a time or two.  After he asked me to marry him and we climbed on the plane so I could meet his parents, I started to get it.  When we changed planes in Atlanta and boarded our Honolulu flight, it occurred to me there is only one Hawaii…and it is not in Ohio.
I love to explore the foods of Hawaii.  The bounty of their small islands is amazing.  Although, tragically, the property value has risen so much that they don't really farm pineapple on the island of Oahu now, there are still traces of this with the Dole plantation.  Some of the fields once lined with spiky plants or sugar cane are being planted with cocoa and coffee.  Even though commercial agriculture is declining as their island is more developed, the resourceful practice of sustainable agriculture in your own backyard has been encouraged for decades by Asian influence.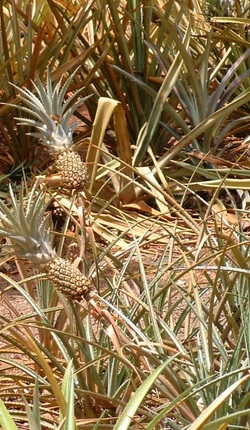 My husband's parents have mango, lychee, dragon eye, strawberry guava, and pomelo trees growing in their yard, all planted by a previous owner.  Farmer's markets and produce vendors in Chinatown carry limitless assortments of other fruits, vegetables, herbs, and spices that grow well in the tropical environment.  In addition to the extensive produce available, there is also an incredible variety of flavor from the diverse cultural influences of the many nations of Asia, the South Pacific and other parts of the world.  It is amazing to think that even Portugal has left its mark on this island with the popular soups and sausages they introduced, as well as their version of guitar.  Though I enjoy some of almost all of the different flavors available here (other than spam), my favorite food destination on the island is Chinatown.
On my second visit to the island, my father-in-law was kind enough to take us to a very unique food court near the fish monger, butcher, and produce stands of Chinatown.  In one large room, there were small stalls surrounding the perimeter, barely 6′ x 6′ each.  Within each stall vendors prepared and sold authentic foods from all corners of Asia: Laos, Thailand, Taiwan, the Philippines, Korea, China, Japan, India, Indonesia, Vietnam, and others…with a Pizza stand for good measure. It took quite a while for me to decide what I would have for lunch that day, and the Thai dish was delicious.
My in-laws all had a piece of pizza.
Pineapple Sweet and Sour Sauce
Per Serving 424 calories
Fat 6 g
Carbs 91 g
Protein 6 g
Serve this tangy sauce over cooked meat, stir fry, or as a dipping sauce
Ingredients
1TBSP extra virgin olive oil
1 cup diced onion
4 large pressed garlic cloves
2 TBSP fresh ginger root, sliced
1 star anise
Pinch of crushed red chili pepper
1 cup sugar
1 cup rice wine vinegar
2 cups of low sodium chicken broth
20 oz can pineapple tidbits and reserved juice
1 tsp cornstarch
Directions
Heat oil in a medium saucepan; sauté onion, garlic, ginger, anise, and chili pepper over high heat until the onion is soft. Remove from pan and reserve for later use.
Combine sugar and 2 TBSP of the stock in the pan and cook over medium-high heat, while stirring constantly, about 5 minutes until mixture caramelizes. Add rice wine vinegar and cook until sugar dissolves completely--about 5 more minutes.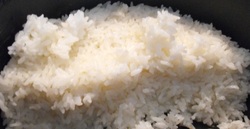 Return reserved onion mixture to pan; add remaining broth and pineapple pieces. Cook over high heat for 5 minutes. In a small bowl, whisk together reserved pineapple juice and cornstarch. Whisk cornstarch mixture into the saucepan and cook over low heat, stirring constantly, for 30 minutes or until reduced by half.
Serve over a stir fry, as a dipping sauce, or over cooked meat.