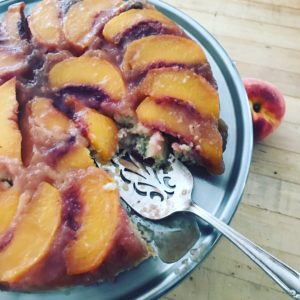 This summer has been very disappointing where peaches are concerned.  Quite frankly it doesn't matter what you do to a mediocre peach, it won't ever reach that extraordinary flavor satisfaction that a perfect peach has.  In my opinion peaches should be dripping with goodness.  You should be able to close your eyes, inhale, and smell the sweet blossoms that created their indescribable perfume.  When you touch their soft skin, there should be an "oh-so-slight" give.  And when you take your first bite, you are going to need a napkin because things are going to get sticky.  You don't get a peach like this every day, there is usually about a week that I can find fruit that meets my criteria… but the memory of that incredible flavor is enough to fuel my hunt until I find it again the following summer.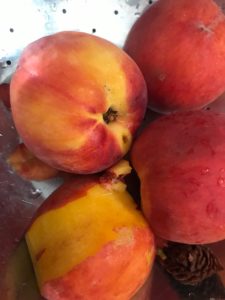 Living so close to Georgia I generally succumb to the idea that Georgia has the "best" peaches… don't tell my South Carolina friends (those are fighting words).  It seems sacrilegious as a southerner to admit that any state not known for Sweet Tea and biscuits could even consider growing peaches… so we won't mention those other places, yet.  This year however- Georgia's weather did not cooperate.  I've tried and tried, searching farmer's markets and my usual sources only to be told, they didn't get a good crop.  Devastating, that is how I have felt to think that it may take a whole year to again find peachy satisfaction.  I've been in mourning and even went so far as to apologize to a few of my friends that usually rely on me for a peach cobbler fix.
Yesterday however, it happened!  I was on my way to pick up a few groceries, a handful of essentials.  As I dashed (because yes, I was running late) through the produce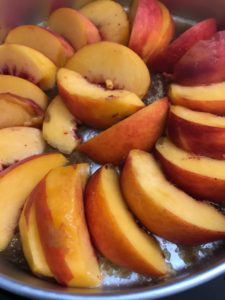 section… from the corner of my eye… I saw those globes of goodness as I noticed… was that just the tiny hint of peach blossom smell?  Not believing my senses, I walked to the display and proceeded to make a scene that I am sure my children would have found humiliating.  As I stood there deeply inhaling peach after peach I announced to the lady by the apples my enthusiastic approval of the beauties.  The apple lady quietly moved away, but kept an eye on me (I am sure she had plans to come back over when I finished and fill her cart with peaches too).  I was giddy as I filled my bag, completely forgetting the more practical ingredients that I originally came for.  Who, cared… there would be peach cake, soon!  Curious I checked the sticker to see what state in the union these beauties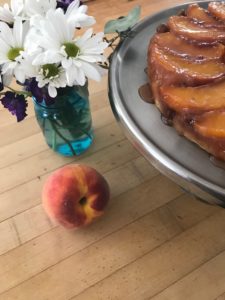 came from.  Product of the USA is all the sticker said.  Between you and me, I know this might mean Colorado or Texas… but I'm willing to suffer that fate for a peach this amazing.  But, please don't tell my friends from Georgia until after they finish their slice of cake.
Per Serving 404 calories
Fat 21 g
Carbs 53 g
Protein 5 g
Ingredients
1/4 cup butter, softened
1/2 cup packed brown sugar
3 medium peaches
½ cup butter, softened
3/4 cup sugar in the raw
1 egg
1 teaspoon almond extract
1-1/4 cups white- wheat whole wheat flour
½ tsp cinnamon
1-1/4 teaspoons baking powder
1/4 teaspoon salt
1/2 cup whole milk
¼ cup toasted pecan pieces
Directions
Place ¼ cup of butter in 10" round cake pan. Preheat oven to 350 and place cake pan with butter in oven to allow butter to melt completely- remove pan with melted butter from oven before the butter starts to brown.
Sprinkle the brown sugar evenly on the melted butter. Cut the peaches into wedges and arrange in concentric circles on top of the brown sugar.
Cream together the remaining ½ cup of butter with ¾ cup of sugar with an electric mixer until light and fluffy. Add the egg and almond extract, beat briefly to combine.
In a medium bowl whisk together the flour, cinnamon, baking powder, and salt. Add half of the flour mixture to the creamed mixture, mix to combine. Add the milk, mix again, then add the remaining flour mixture, beat well then pour over the prepared peaches in the pan, smoothing the surface.
Sprinkle with the pecans and bake at 350F until cake is cooked through, about 45 minutes. Test center with a toothpick to confirm that it is fully cooked. Remove from oven and allow to cool for 10 minutes, invert on a serving platter and serve warm. Yield 8 servings