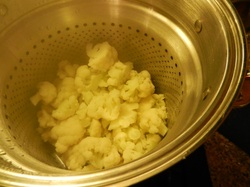 My friend Jeanine recently underwent an extreme makeover of her eating habits. Due to health problems she was commanded by her doctor to make drastic changes, eliminating all carbohydrates and most dairy from her diet. This has been a real challenge for her.
I'll have to admit that I too get a bit overwhelmed when I read the long list of things she cannot eat. Since making these changes, she has seen considerable improvements in her health, but she still misses some of her favorite starchy comfort foods. I have been trying to help her adapt some dishes to satisfy her cravings while staying withing her guidelines.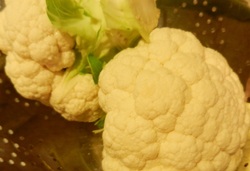 Though mashed potatoes are delicious made from spuds and dripping with butter, they are a definite no-no on her plan. This version is made with cauliflower and contains no dairy, other than one egg (technically a protein). If you wish to make these vegan, you could easily leave the egg out. I love horseradish so I add a little, but that is optional. If you are not avoiding dairy, you could also melt cheese on top of the dish. It is important with this recipe to not  boil the cauliflower, allowing it to absorb more water, which would then make the final dish seem soupy. Make certain though that you cook the vegetable long enough for it to be tender and blend it until it is smooth…no lumps in this dish!
Though my kids weren't exactly thrilled to be given faux potatoes, Jeanine liked them and was glad to enjoy something that would have otherwise been taboo.
Per Serving 203 calories
Fat 11 g
Carbs 21 g
Protein 10 g
Ingredients
2 heads fresh cauliflower
1 clove fresh garlic
2 TBSP extra virgin olive oil
1 tsp coconut oil
1 tsp sesame oil
1 egg
Salt and fresh ground black pepper to taste
Fresh chives to garnish
Prepared horseradish if desired
Directions
Place steamer basket over a large pot with boiling water. Chop cauliflower to small, consistent-sized pieces. Place cauliflower in steamer basket and cook until tender.
Remove cauliflower from the pan, drain any excess liquid. Place one cup of the hot cauliflower in blender and blend until smooth. Add garlic, oils, egg, salt, and pepper, blend until smooth. Add remaining cauliflower and blend until smooth. Taste and add more salt and pepper if desired.
It is important to blend the cauliflower while it is steaming hot so the heat of the vegetable will cook the raw egg, it also helps mellow the garlic. If you don't have a powerful blender, you can blend these in your food processor or with a mixer.
When ready to serve, garnish with a spoon full of horseradish, fresh chives, and a drizzle of olive oil if desired.