Visiting local farmers markets tops my list of things to do whenever I travel. At these markets I find it fascinating to see what is seasonal and available locally- I usually discover new produce. Being able to meet and chat with the local farmers about the foods they have grown and how to prepare them is an awesome opportunity. It is also usually one of the best places in town to taste fresh local flavors with the street food prepared by the vendors in the the stalls of the market.
Hawaii is no exception to this and when we visit our family there we usually find our way to two or three different farmers markets. On our trip in January (2020) we had a wonderful time at the market near Diamond Head in the parking lot of the Kapiolani Community College.
This large market was packed fully of farmers, food vendors, locals and tourists who had all come to taste the flavors of Hawaii. While we did fill our baskets with fresh produce and tropical flowers we also enjoyed trying the fresh juices and mochi doughnuts sold by the vendors. These doughnuts were so delicious that we have since developed our own recipe to make them at home.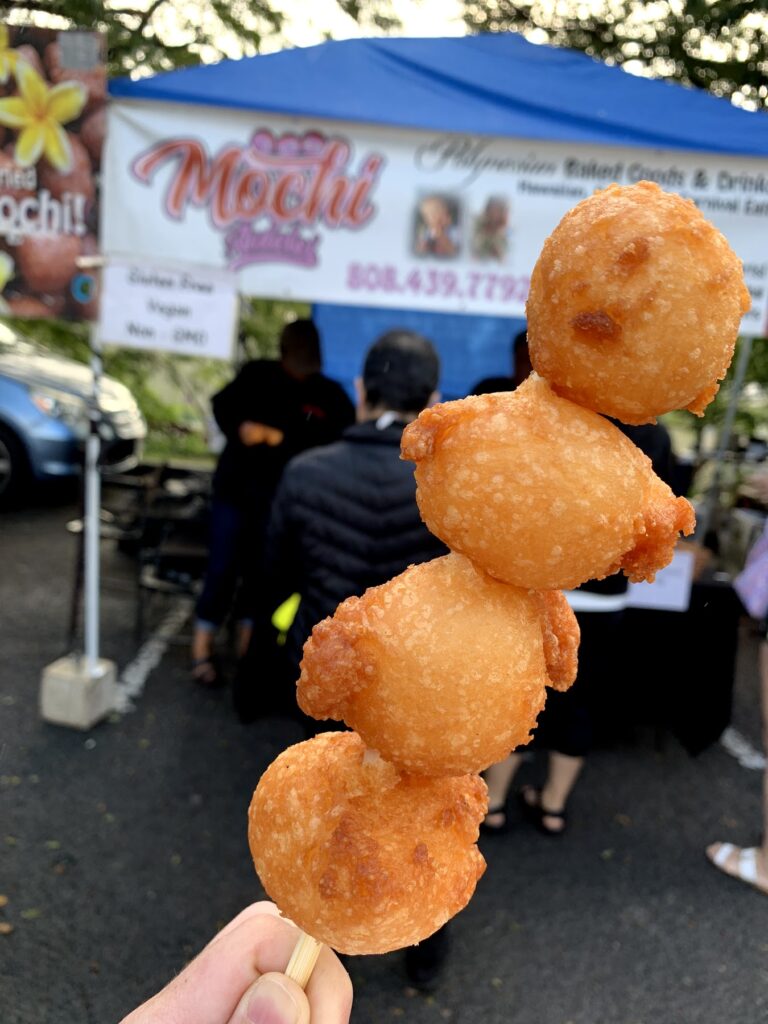 Mochiko- which can also be called glutenous rice flour or sweet rice flour- is made from short, round grains of rice that are ground. Although it is called glutenous rice flour- it does not contain gluten. It develops a very unique, chewy, almost gummy-like texture. This is what is used to make mochi ice cream, which is wrapped in the sweet rice flour dough.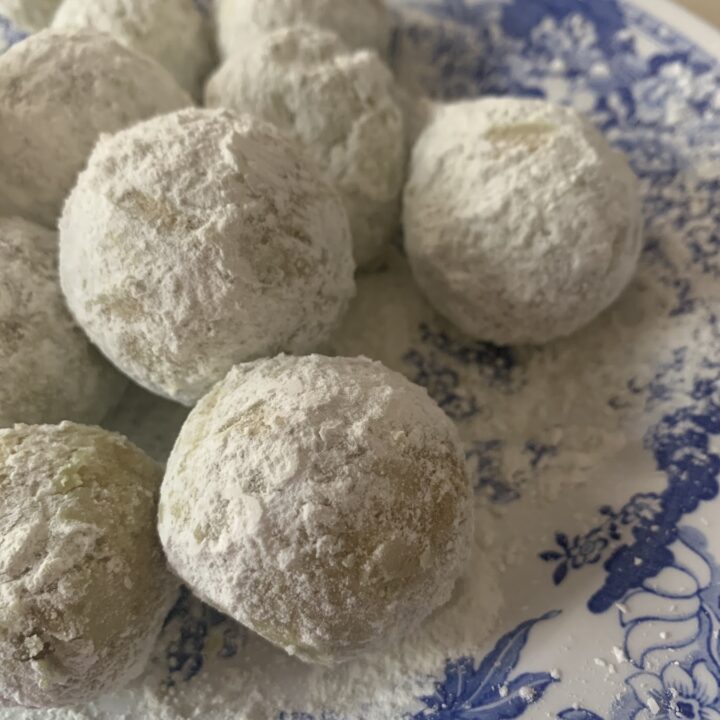 Mochi Doughnuts- Kona Coffee Flavor
These delicious Hawaiian doughnuts are crisp on the outside and chewy on the inside.
Ingredients
1/4 cup glutinous rice flour
2 1/2 TBSP whole milk
1 3/4 cups glutinous rice flour
1/4 cup granulated sugar
1 tsp baking powder
pinch of salt
1 tsp instant coffee powder (ground fine in a mortar & pestle)
1/2 cup whole milk
2 TBSP coconut oil1 large egg
additional glutinous rice flour for dusting
½ cup powdered sugar
2 tsp cinnamon
Instructions
Heat oil for frying to 330°F- use a deep fryer or a pot with at least 3 inches of oil in the pan.

In a small microwave-safe bowl combine ¼ cup glutinous rice flour and 2 ½ TBSP milk; stir till smooth and microwave for 30 seconds on high. Stir mixture; microwave an additional 15 seconds. Stir and set aside to cool. Mixtue will be sticky and elasti as in the photo below:

In a large bowl stir together remaining 1¾ cups glutinous rice flour, granulated sugar, baking powder, salt and coffee. In a small bowl stir together milk, egg, and coconut oil. Add this to the mixture that was microwaved. Stir to combine, then add to the mixture in the large bowl. Stir with a silicone spatula until smooth and stretchy.

Lightly flour work surface with rice flour. Turn out the dough and knead until completely smooth. (This should feel like play dough.) Divide the dough into quarters. Roll one quarter into a rope approximately 1" in diameter. Cut the rope into 1" pieces and roll each piece into a mochi ball using a little more glutinous rice flour if needed (if the dough is too sticky). Repeat this process with each of the remaining quarters of dough. Carefully lower a few of the mochi balls into the 330°F oil. They will initially sink, then float to the surface. Cook until they are slightly golden. Remove with a slotted spoon and set on a rack to cool slightly. Mix together the powdered sugar and cinnamon. Add a few of the mochi balls while they are still warm and toss to coat with the sugar mixture. Serve warm.
Notes
This recipe yields a Kona coffee flavor but you can leave the coffee out and instead use 1/2 tsp of the flavor extract you prefer or omit the cinnamon with the powdered sugar and use a differnt spice, cocoa powder and sugar, matcha and sugar, or only sugar.