A Very Chick Spring Treat
Spring is here! Flowers are blooming, birds are singing, and marshmallow Peeps are in almost every store. Though I am not a big fan of their flavor, they are pretty cute—and my husband "needs" to enjoy one or two every Spring. I thought this would be a fun way to incorporate them into the decor of a spring table setting for a dinner party or luncheon.
Chic Lemon Meringue Nests
12 thin gingersnap cookies
12 bird shaped marshmallow Peeps
12 meringue nests
1 batch lemon filling (or 1 jar store bought lemon curd)
Meringue Nests
6 egg whites at room temperature, reserve yolks for filling
½ tsp white vinegar
¼ tsp salt
2/3 cup granulated sugar
4 tsp cornstarch
1 tsp vanilla extract
Preheat oven to 250° F. In a metal or glass bowl, beat egg whites until foamy. Add vinegar and salt. Continue to beat until soft peaks form. Gradually add sugar and beat until glossy. Add cornstarch and vanilla, beat until stiff peaks form.
Place the 12 ginger snaps on a large baking sheet lined with parchment paper. Put meringue in a large pastry bag or gallon freezer bag with the corner cut. Carefully pipe over each gingersnap to completely cover the cookie then create the "walls" of your nest by circling the outline above the bottom layer of meringue. Place in preheated oven and bake for 45 minutes. Leave in the oven to cool completely, a minimum of 1 hour–or as long as overnight.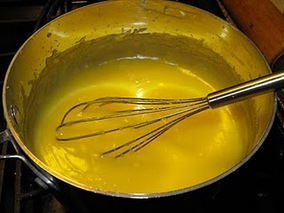 Lemon Filling
1 cup sugar
2 TBSP all purpose flour
¼ cup cornstarch
1/4 tsp salt
1 ½ cups water
2 TBSP grated lemon zest
½ cup fresh squeezed lemon juice
6 large egg yolks
In a medium saucepan, whisk together the sugar, flour, cornstarch, salt, water, and lemon zest. Bring to a simmer over medium-high heat, whisking as it thickens. Place egg yolks in a small bowl and whisk with the lemon juice. When sugar mixture is thick enough to coat the back of a spoon whisk ½ cup of it into the egg yolks.
Quickly whisk egg mixture into the simmering sugar mixture. Stir constantly while mixture cooks and thickens to a custard-like consistency. Refrigerate until ready to use. Assemble nests by removing them from you baking sheet. Fill with about 1 TBSP of the lemon filling and top with a Peep of your choice. Enjoy right away.