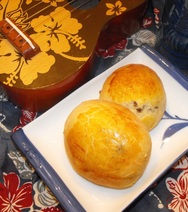 One of the most popular "snacks" in Hawaii bears testimony to the heavy Chinese influence the islands are under.  Manapua—or meat filled buns—can be found in bakeries, restaurants, and convenience stores all over the islands.  Just like the Chinese Dim Sum dish Char Sui Bao, each sweet bun is traditionally filled with a scoop of char sui pork or other barbequed meat.  There are even bakeries that thrive by producing this one specialty.  It is thought the name comes from the Hawaiian words for cake (mea'ono) and pork (pua'a).
In addition to the pork, you can also find chicken curry, vegetable, red bean, and other filling options.  They are prepared both steamed and baked.  The convenience and flavor have made these a favorite and they are perfect as an alternative to a sandwich in your lunch or as a fun appetizer for a luau.  I like to make these with the sweet dough recipe below, but if you are in a hurry, you can use frozen dinner roll dough or canned rolls from the refrigerator section.
Per Serving 287 calories
Fat 11 g
Carbs 39 g
Protein 8 g
Manapua—or meat filled buns—can be found in bakeries, restaurants, and convenience stores all over the Hawaiian islands.
Ingredients
Dough
2 ¼ tsp yeast (1 package)
1 cup warm water
¼ cup honey
1 tsp toasted sesame oil
½ cup butter, melted and allowed to cool
1 large egg
1 tsp salt
3 cups unbleached all-purpose flour
Filling
½ lb ground turkey, chicken, or pork
1 cup grated carrot
½ cup chopped green onion
2 cloves garlic, minced
1 TBSP fresh ginger root, minced fine
¼ cup chopped water chestnuts
¼ cup honey
¼ tsp Chinese five-spice powder
2 TBSP hoisin sauce
2 tsp toasted sesame oil
½ TBSP corn starch
2 TBSP water
1 tsp ground black pepper
1 TBSP soy sauce
Directions
Whisk together yeast, water, and honey; allow to rest for 5 minutes to proof the dough. Stir in the sesame oil, then butter, then egg, then salt. Pour liquid mixture into flour and stir until smooth—dough will be very sticky. Place dough in a large bowl then refrigerate covered for at least 4 hours, dough should double in bulk.
Sauté meat in a large pan over medium heat until cooked through. Add green onion, carrot, garlic, ginger, water chestnuts, and five spice; cook 2 minutes. Blend the cornstarch in water until smooth, then add that and the remaining ingredients to the meat mixture. Cook until sauce boils then remove from heat and allow to cool.
1. Remove dough from refrigerator and divide into about 16 equally sized balls.
---
2. Flatten each ball of dough.
---
3. Place a heaping tablespoon of the cooked meat mixture in the middle of each.
---
4. Seal the meat in the center then either place on a greased baking sheet or in a steamer basket that has been lined with parchment paper.
---
5. Allow the dough to rise for about 30 minutes; then brush the tops of the rolls with beaten egg.
---
Bake at 350°F for 15 minutes.
OPTION: Don't brush the tops and instead steam in a steamer basket for 15 minutes
---
---