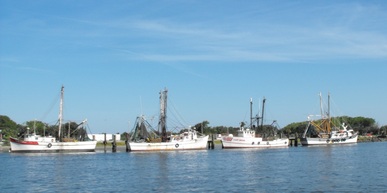 In the coastal communities of the Carolinas, Low Country Boil became a popular way to cook seafood for a crowd.
Low Country Boil is a classic southern dish, originally known as Frogmore Stew or Beaufort Stew. These two names come from a little town called Frogmore and the county of Beaufort in South Carolina.
This one-pot meal is featured every July at the 10-day Beaufort Water Festival, an event that feeds 2,400 people. The recipe that day includes 2,400 ears of corn, 1,200 lbs of shrimp, 600 lbs of sausage, and 72 oz. of seasoning and is served with 2,400 rolls, 350 lbs of coleslaw, 250 gallons of iced tea, and 90 watermelons.
This is a wonderful recipe that staggers the cook times of the components so that everything is cooked to perfection and delicious. You can vary the quantities of the ingredients to suit the taste of the crowd you are cooking for.
If you prefer to make this with live blue crabs instead of crab legs, allow a few extra minutes for cooking the crab before adding the shrimp. Serve with melted butter and cocktail sauce.
Per Serving 521 calories
Fat 14 g
Carbs 55 g
Protein 45 g
Low Country Boil is a classic southern dish
Ingredients
3 TBSP Old Bay Seasoning
12 medium red skinned potatoes (or 6 large ones, cut in half)
1 lb package kielbasa (or smoked sausage of choice)
6 large carrots, peeled
6 ears corn, shucked and broken in half
1 large onion
2 lbs frozen crab legs
4 lbs fresh local, head on,shell-on shrimp
Directions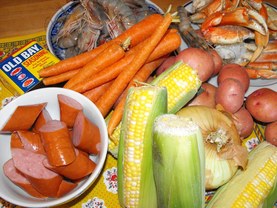 In a very large pot with a lid, bring about 6 quarts of water to boil; add Old Bay. Carefully add potatoes to the pot and allow them to cook for about 5 minutes.
Add sausage, carrots, and corn. Cook until the potatoes start to get a little tender, about 10 minutes.
Add crab legs and cook 4 minutes then add shrimp (they can have the heads on or be de-headed).
Return water to a boil and cook for 4 more minutes or until the shrimp are opaque.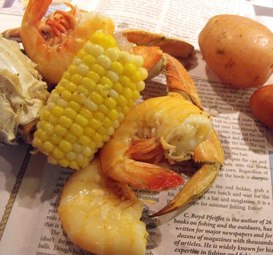 Carefully pour the cooked food into a colander to drain, then serve on a platter or in the traditional way--on a table outdoors that has been covered with newspaper.