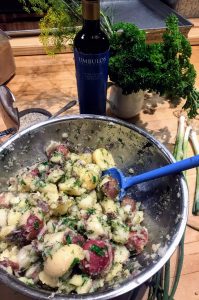 Last weekend was the official open of the Tallahassee Farmer's Market for the season.  No, it wasn't actually closed prior to that but historically this date marks the "kick-off" into the first, bountiful phase of summer harvest.  To prepare for this event the farmers asked me to come out and do a cooking demonstration with their "fresh picks".  I loved the suspense of waiting for my delivery from the farm and there were so many delicious options that it was really difficult to to decide what to make!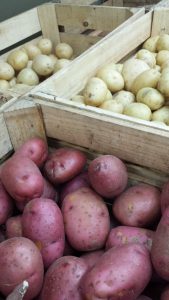 Among all of the fruits and vegetables I found a sack of fresh potatoes!  I have less that pleasant memories of the time I spent a day digging potatoes on my grandfather's farm- it is a lot of work when you have rows and rows to dig up.  It is worth it though when you finally taste the amazing flavor of a fresh potato.  Like corn, and other starchy vegetables, potatoes loose a lot of their "sweet" flavor after they are picked.  The longer they are stored- the more starchy they taste.  Fresh potatoes are so good you really don't need to do much to them, but I had fresh herbs and an amazing Single Estate Sardinian olive oil (also from our market)… so I made a very simple potato salad.  I hope you enjoy this recipe, you can find the ingredients this Saturday at the Tallahassee Farmer's Market, in the Market Square Plaza 1415 Timberlane Road (8am-noon, or when they sell out).  If you can't make it to this market, be sure- wherever you are- to find a good source for fresh, local potatoes.
Ingredients
3 lbs of small, fresh new potatoes
1 TBSP sea salt
2 TBSP fresh minced dill (or to taste)
3 TBSP fresh minced parsley
¼ cup finely minced fresh green onion
¼ cup extra virgin olive oil
1 tsp KitchenAble seasoning (or to taste)
Fresh ground black pepper to taste
Directions
Wash potatoes, trim as needed but leave the skin on - if any of the potatoes are significantly larger cut them in half.
Place potatoes in a large pot and cover with cold water then put on medium-high burner and bring to boil, add salt. Reduce heat to simmer and allow potatoes to simmer until they are fork tender but not as soft as for mashed potatoes.
When the potatoes are fork tender, 10-15 minutes depending on size, remove from the heat, drain, and spread in a single later on a sheet pan so they can cool more quickly.
While they are cooling prepare the other ingredients and stir together in a large bowl.
Cut the potatoes to slightly smaller pieces (usually halves or quarters) and add to the large bowl with the oil & herbs. Stir together add more oil or seasoning to taste