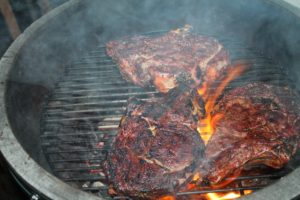 May is National Barbecue Month and grilling is one of my favorite ways to cook. Actually, to be honest, my husband does the cooking when the grill is involved. (Bonus! It tastes delicious and I can do something else while he tends the flame.) But there are quite a few tools that we've found over the years—some that we love, some that we'll pass on.
Later this week, I will post a few of the latest gadgets to come our way.
For now, I thought I would share a simple grilling rub recipe that is delicious, easy to make, and would be a terrific gift to give for Father's Day.
Per Serving 2 calories
Fat 0 g
Carbs 0 g
Protein 0 g
Ingredients
1 TBSP ground black pepper
1TBSP dark brown sugar
2 TBSP fine sea salt
1 TBSP dehydrated shallots, ground fine
1 TBSP Hungarian Paprika
1 TBSP thyme
Directions
Combine ingredients, store in an air-tight container and use to season beef, chicken, pork, or vegetables before grilling. Coat whatever you want seasoned with a little extra virgin olive oil then sprinkle generously with this seasoning.
*If you like things extra spicy you can add 1 tsp of white pepper and 1/2 tsp of ground cayenne pepper to give this a tasty kick!