When giving gifts, it is nice to give something practical that will both bring comfort and make the life of the recipient a little easier.  This simple "Soup in a Jar" is nutritious, delicious, inexpensive, and it doesn't take long to make or cook.  The "red" lentils in the recipe actually look orange,  and the "green" are mostly brown…but that is what they are called.
For the sun-dried tomatoes make certain you get the ones that are packaged dry, not packed in olive oil. Lentils are an excellent source of dietary fiber, B-1, and folate.
Jar of Comfort – Lentil and Rice Soup to Give
2 quart jar and lid
¼ cup dehydrated chopped onion
1 TBSP dehydrated minced garlic
1 TBSP chicken bullion powder
1 cup red lentils
1 cup green lentils
2 TBSP dried green parsley
1 ½ cups rice
2 TBSP sun-dried tomatoes, julienned
1 TBSP of seasoning blend
Make certain jar is clean and completely dry.
Pour in the onion, garlic, and bullion.  Next pour in the red lentils and smooth to an even layer.  Top with the green lentils and parsley; even the top.  Stir together the rice, sun-dried tomatoes and seasoning blend—pour into jar and then seal.
Give jar with the following gift tag and instructions:
This is the easy recipe I like to make for my family at home…
Per Serving 260 calories
Fat 4 g
Carbs 44 g
Protein 14 g
Lentils- a tasty legume that is perfect for soup.
Ingredients
1 lb dried lentils
2 TBSP extra virgin olive oil
1 red bell pepper, chopped
1 large sweet onion, chopped
3 cloves garlic, minced
3 carrots, chopped
3 celery ribs, chopped
3 bay leaves
3 sprigs fresh thyme
2 sprigs fresh rosemary
½ cup red wine
1 bag fresh spinach, chopped
½ cup fresh parsley, minced
Fresh squeezed juice of 1 lemon
1 tsp sugar
1 cup small pasta
Directions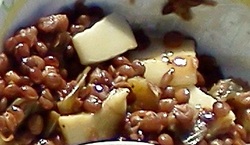 Sort and rinse lentils. Sauté onion, pepper and garlic in olive oil until onion is translucent. Add celery, carrots, lentils, 6 cups water, bay leaves, thyme, rosemary, and wine. Cover, bring to a boil, and then simmer about 45 minutes. Stir in spinach, parsley, lemon juice, and sugar. Stir in pasta and cook until pasta is done. Add salt and fresh ground pepper to taste.
To serve, ladle into bowls and top with fresh grated parmesan cheese. Serve with bread.