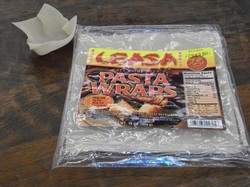 Chinese New Year is a wonderful excuse for people of any culture to gather with those they care about and enjoy good food.  It is also a great reason to expand your repertoire of Asian recipes and add a little Chinese flair to your table.  Earlier this week, I hosted a Chinese cooking demonstration at Cost Plus World Market on San Jose Blvd.  We had a wonderful group of participants and enjoyed a menu that included several tasty dishes made with Asian ingredients.  One of the popular and simple dishes we enjoyed was Wonton cups and Sesame Noodle Salad.
Wonton Cups
Place wontons in muffin pan, spray lightly with vegetable oil, sprinkle with sesame seeds and salt then bake at 350°F for 6 minutes or until golden brown. Remove from oven, allow to cool in pan before removing. These can be filled with almost anything and can be made with regular or mini muffin pans.
Sesame Noodle Salad
1 package ramen noodles, uncooked but crumbled
1 bag coleslaw mix–fine shred with carrots
½ cup toasted sliced almonds
1 can water chestnuts–drained, rinsed, and sliced
½ cup green onion, chopped
1 large tomato, diced
1 seedless orange, peeled and diced
1 TBSP fresh minced cilantro
Dressing
3 TBSP seasoned rice vinegar
2 TBSP soy sauce
1 TBSP honey
1 TBSP dark brown sugar
½ tsp sesame oil
¼ cup extra virgin olive oil
Fresh ground black pepper to taste
OR
Bottled Ginger Dressing (with a little brown sugar mixed in). Place noodles and cabbage in large bowl and toss. Add remaining salad ingredients. Whisk together all dressing ingredients except oil. Mix well and gradually drizzle in oil while whisking to emulsify. Pour desired amount over prepared salad, toss with tongs.  Add a generous spoonful of salad to each wonton cup, serve immediately.  You can top this will cooked chicken, fish, or shrimp.