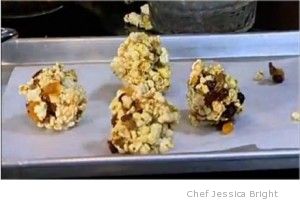 Gourmet Carmel Corn with Fruit and Nuts ~ Delicious!
Ingredients
10 cups popped popcorn (unpopped kernels removed)
¾ cup packed brown sugar
¼ cup water
3 TBSP butter
2 TBSP dark corn syrup
¼ tsp salt
2 cups dried fruit (I use a combination of Craisins and chopped dried apricots)
1 cup toasted pecans
Directions
Grease a very large bowl with non-stick spray.
Combine sugar, water, butter, syrup, and salt in saucepan. Place over medium heat until it reaches 250° F and mixture starts to thicken (5-6 minutes).
Place popcorn, nuts, and fruit in the large greased bowl and pour syrup over, stirring quickly to coat.
Use buttered hands to pat into balls. Wrap each ball and eat within 2 days.