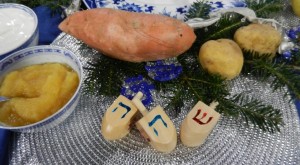 The most popular ingredient for latkes is grated potato but they can be made using many combinations of vegetables: white potato, sweet potato, onion, zucchini, garlic, legumes, cheese, flour, matzo, and egg.  Latkes are often served with apple sauce or sour cream.  I enjoy serving this sweet potato variation with a cinnamon apple sauce.
Prep Time: 10 minutes
Cook Time: 20 minutes
30 minutes
Per Serving 365 calories
Fat 26 g
Carbs 32 g
Protein 4 g
The slight sweetness of the sweet potatoes in this recipe pairs well with apple butter.
Ingredients
2 lbs sweet potatoes, peeled and coarsely grated
2 eggs
Matzo meal, if needed
Olive oil or vegetable oil for frying
2 cups unsweetened apple sauce
2 TBSP cinnamon
2 TBSP brown sugar
Directions
Squeeze excess moisture from the sweet potatoes and mix in the eggs and matzo as needed to help bind the mixture without making it gummy.
Pour enough oil in a large sauté pan to have about ¼-inch thickness. Heat to medium heat then scoop about 2 TBSP potato mixture into hot oil; press flat with your spatula and cook until golden brown then flip to brown the other side.
Remove browned latke to a plate lined with a paper towel. Place in a 350°F oven to keep warm while you cook the remaining potato mixture. When oil is hot enough, you can cook several latkes at once.
While the latkes are cooking, combine cinnamon, sugar, and applesauce in a small saucepan and simmer to reduce slightly. Serve on hot sweet potato latkes.