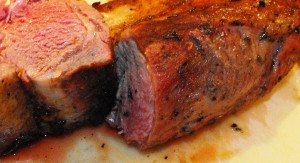 As with most warm weather national holidays, many families are making plans now to gather around the flames and grill this weekend. But somehow, this frequently goes awry. There are any number of seemingly minor mistakes that can turn that carefully selected portion of protein into a puck that would even be rejected for hockey. I hope that by taking a few moments now to read the information below, you will be better equipped to grill without regrets this Memorial Day.
1. Starting the flames – This first step can get you going in the right or wrong direction. Before fire even comes close to your grill, check its location; make certain it is stable, well ventilated, and that there is nothing nearby that might easily ignite. If you tend to turn up the heat, also make certain you aren't too close to anything that might melt. For parties where children will be present, avoid having the grill too close to play traffic. Also consider the comfort of the grill. Make sure comfort is nice and shade is normally appreciated If grilling at night, the grill master will also need a light source.
Check the grill itself – Verify that it is not too rusty (they often "rust out" and can spill hot coals or grease) and will be able to support any necessary weight. Also inspect for any collections of grease in the grill as these may easily ignite. The grate of the grill will need to be clean and free of any old food. I recommend cleaning after the food is removed from the grill. Then all you need to do is start the grill and begin cooking the next time you decide to cook outside. If the last user did not do this, you may want to clean up with a grill brush, steel wool, or heat the grill to a very high temperature and burn off the old food deposits. It is also best to empty the ash catcher before you light your grill again, if you have one. For gas grills, check the drip pan if you have one.
To start the fire – If cooking with gas, you'll want to make certain you have enough gas on hand to cook your food. Check the ports (holes where gas is emitted) for any accumulations. If the ports are clogged they can prevent lighting and cause significant problems, possibly even explosions. Check your grill manual for instructions on cleaning.
If you are using charcoal (my preference), DO NOT use excessive lighter fluid; use extreme caution on use and storage since it is so flammable. My family prefers to avoid it altogether by using a chimney and plain newspaper to light our coals. If you use this method, avoid burning any plastic coated paper since burning plastic can release toxic fumes.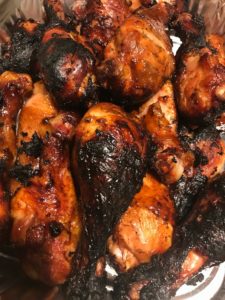 2. Prepping the food – Be certain to thaw food completely and store at proper temperature before grilling. Use caution not to cross contaminate when using raw meat. Be especially conscientious about sauces, marinades, and grilling tools. Do not baste your meat with the same sauce that it was marinated in raw unless you have brought that sauce to a boil and boiled it hard for at least one minute to kill any potential bacteria present. With grilling tools, either use one set for the raw meat and one for the cooked product, or some grillers place the tools that have touched the raw meat down in the heat of the grill to cook off any possible contaminants. Do not use a platter that held uncooked meat for the finished dish unless you wash it well first.
3. Cooking – Do not put the raw meat on a cold grill — it will essentially fuse to the grate as it heats with the grate. You need a sear to form when the meat touches the grill to help prevent sticking. Do not flip excessively — you can prevent that sear from forming and thus allow the juices to escape. Do not EVER squeeze the meat. This does not speed up the cooking but only forces out all of the moisture and expedites the dehydration of your dinner. If you are using a high sugar sauce, it is best to wait until the food is almost finished cooking to baste it. The sugars in the sauce will quickly and easily caramelize and then start burning. If using any sauce or basting with a high alcohol liquid, use extreme caution since they are very flammable.
If cooking over indirect heat, do not lift the lid too often — the heat will escape and ruin the effectiveness of this method. For most grilling, leaving the lid down will yield the best results. Closely monitor the grill for any flare-ups and watch the progress of your food. If a flare-up does occur, move the food from the flame.
4. Finishing it off –  Do not leave food on grill after it has reached the desired internal temperature For most meats you will need to remove them a little before, cover with foil, and allow to "rest" as the residual heat finishes off the cooking. For larger pieces of meat and poultry, a meat thermometer is the most accurate (and safe) way to check for doneness. If you always burn your chicken, try cooking it a little in the oven (so the inside gets a head start), then throw it on the grill for marks and finishing it off.
Always remember that food is considered too dangerous to eat (by the USFDA) if it has been over 40ºF or below 140ºF for more than 2 hours. This includes anything left on the table and buffet…even that plate of uneaten burgers. Reheating the food may kill some of the present bacteria, but they can still leave toxins that will make you sick. So if you aren't quite sure that you'll eat everything within that time frame, wrap it securely and store it properly.
Barbeque Chicken
Boneless-skinless chicken thighs are a wonderful, less expensive, option for the grill. Because they are dark meat they are more moist and less likely to dry out. I also think they have much more flavor than other options.
Monitor this cut closely because it tends to be small and thin. Start them over medium heat with the lid open, but you can cook them more slowly over indirect heat with the lid on your grill. Remove from grill when their internal temperature reaches 175ºF, then allow to rest (covered with foil) so their temperature will continue to rise to the recommended 180ºF.
Per Serving 282 calories
Fat 18 g
Carbs 15 g
Protein 15 g
Ingredients
4 TBSP honey
3 TBSP cider vinegar
½ cup ketchup
¼ cup brown sugar
2 TBSP Dijon mustard
2 TBSP extra virgin olive oil
½ tsp liquid smoke
1 TBSP onion powder
1 TBSP Worcestershire sauce
Hot sauce to taste
2 LBS boneless chicken thighs
Salt and pepper to taste
Directions
Combine all ingredients in small sauce pan and bring to simmer; cook until thickens.
Season chicken with salt and pepper; Cook on hot grill over medium heat about 8 minutes on each side. Brush with prepared barbeque sauce for last 2 minutes of cooking and serve with extra sauce on the side.
RELATED LINK: