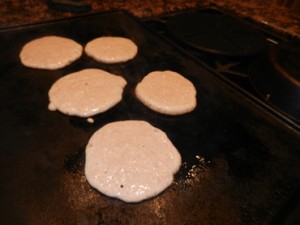 I have very fond memories of meals shared when I was a child. Yes, I enjoyed family dinners around our own table but I also enjoyed covered dishes with my church, spaghetti dinners with my high school rowing team, and any community meal I could find on my college campus. While working at Walt Disney World in their college program, I even enjoyed huge feasts with fellow employees from many corners of the globe. I fondly remember trying dishes with friends from Norway, China, France, and even Tea with friends from the U.K.. For some of the meals ,I had much in common with those that gathered round the table; for others, we were virtual strangers. Gathering together for a meal gave us the opportunity to sit and share. We learned so much about each other, our thoughts, and cultures. I consider my life so much richer for these experiences.
We live in such busy, hurried times now that it is difficult to find the opportunity to get back to the table with our own family,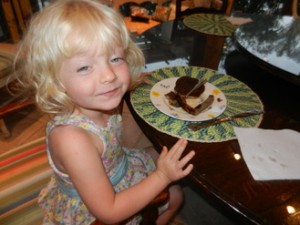 much less friends and neighbors. Research, however, supports the fact that meals shared together help strengthen families, encourage healthier diets, help improve academic performance in kids, and lower the risk of some dangerous habits like smoking, alcohol, and drug abuse (Archives of Pediatrics and Adolescent Medicine). You can find more statistics and information on this at http://casafamilyday.org/familyday/.
A few weeks ago, I had the chance to go to the Cassat house and help prepare a community spaghetti dinner. This facility is an outreach of Family Support Services at Eureka Gardens Apartments on Jacksonville's Westside to help strengthen community involvement. Jim Adams (the CEO of F.S.S.) also had many fond memories of community meals that were shared and wanted to promote family fun and bring families together through food and nutrition at the community center there. I volunteered to help with the project and had so much fun cooking with the kids and meeting the families that we decided to schedule another event.
Of course budget is a factor so we decided to keep our costs down and choose something the kids would be able to help with…so we're making pancakes. By using whole grains and healthy toppings (yogurt, bananas, strawberries, blueberries, honey, apple sauce, raisins, and real maple syrup), we will also have a chance to teach the kids about making better food choices. They will have the freedom to express their own creativity when they make their "pancake Sundays" at the topping area.
You can have your own pancake party by following the recipe below, or call in during Tuesday's show for your chance to win this pancake gift bag including kitchen tools, an apron, tea, and "Wholesome Pancake Mix". I hope you will consider using simple pancakes to reach out to our community too.
A special thanks to the generosity of the businesses and individuals in our community that have given their support to this event: Times Grill, Wholesome Book Club, Rally Jacksonville, Jax Parks, Family Support Services, and Atiyyah Ellison #99 of the Jacksonville Jaguars.
Per Serving 293 calories
Fat 4 g
Carbs 58 g
Protein 10 g
There is just something about pancakes that makes getting up more worth it!
Ingredients
Wholesome Pancake Mix
3½ cups whole wheat flour
2 cups all purpose flour
1½ cups old-fashioned oats
1 TBSP sugar
1 TBSP cinnamon
1 TBSP baking soda
1½ TBSP baking powder
½ TBSP salt
Wholesome Pancakes
1 TBSP butter
or non-stick cooking spray
1 egg
½ cup milk
1 cup Wholesome Pancake Mix
Directions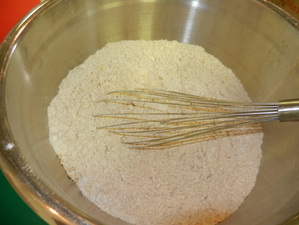 Wholesome Pancake Mix
Combine all pancake mix ingredients in a large bowl; whisk together until well blended. Store in air-tight container.
Wholesome Pancakes
Heat your griddle to medium heat and melt butter (or use cooking spray). Whisk together egg and milk; stir in pancake mix until smooth. Pour a spoonful onto pan and cook for about a minute until you see bubbles on the surface; turn and then cook for about 30 more seconds.
Serve with your favorite pancake toppings.

My son Max, who is 6, is diligently working on his own "Pancake Sunday" cookbook, so don't underestimate how creative or fun this project can be.  For my kids, pancakes aren't just one of their favorite foods to eat, they also enjoy helping to make them.  We often whip up our own whole-grain pancake mix in big batches then store it in an air-tight container.  Thanks to this, it literally only takes a couple of minutes to whip up tasty, delicious pancakes that are actually good for you!