Sometimes you accidentally discover that you really love something.
A few years ago, I was waiting somewhat patiently for some family members to finish shopping in a chain store and as usual, I was hungry.  I knew that we would probably be eating after we left, but I also knew the meal would end up being burgers, pizza, or some other boring American food and I just couldn't bear the thought. The family we were visiting happened to live in Hawaii…and though I appreciated their hospitality, their food choices were not the exotic options I had eagerly anticipated on our trip.  As I wandered through the shops, waiting, I discovered a lunch spot that was exceptionally busy.
This "local" place offered lunch plates that featured options like saimin noodles, rice, Spam, Portuguese sausage, Teri chicken, spareribs, and many other dishes that were influenced by the rich cultural past of the island.  As I stood in line staring at the steaming food options, I just HAD to eat.  I struggled to decide which options would fill the compartments of the Styrofoam bento box they provided.
A mysterious dish caught my attention–I was surprised to learn that it was eggplant.  I had to try it.  I was shocked! It tasted nothing like what I expected, and the spicy sweet sauce was perfectly absorbed by the sponginess of the eggplant, and paired perfectly with the plain white rice they served.  I was so impressed that I had to re-create the dish again at home.  I hope you enjoy it.
Italian eggplant are the large plump eggplant found in most local grocery stores, Japanese eggplant are long an slender.  You can really use whatever type of eggplant you have available; mushrooms would also be an excellent addition to the recipe.
Per Serving 245 calories
Fat 14 g
Carbs 30 g
Protein 4 g
Eggplant served in a spicy sweet sauce ~ a recipe that may change your mind about this vegetable
Ingredients
1 large Italian eggplant
2 TBSP extra virgin olive oil
2 cloves garlic, minced
2 TBSP soy sauce
2 TBSP brown sugar
1 tsp Garlic Chile Sauce* (or more, depending on your preference)
¾ cup water
Directions
Peel and cut eggplant into 1 inch cubes. Over high heat, pour oil in a large pan or wok; add eggplant and other ingredients except water. Stir-fry to cook for 3 minutes, until sauce thoroughly coats all of the eggplant.
Add water, cover with lid and allow it to simmer for 5 minutes. Remove lid, stir well, cover and allow to simmer an additional 5 minutes.
Adjust the garlic chile sauce to suit your taste. It is very spicy so go mild with this recipe, or add more for those that enjoy heat.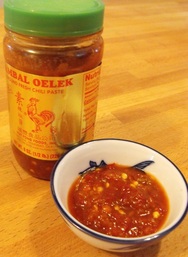 ---
* Garlic Chili Sauce is available in Asian grocery stores