Long ago. I worked for a fabulous Disney restaurant called the "California Grill".  They were famous not only for their delicious fresh dishes but also for their awesome sushi.
Not to leave out the kids, they offered a "dessert sushi".  This super sweet treat was really Rice Krispies treats with a lot of added sugar.  I have to admit that it is pretty cute, and I've used these for Hawaiian and Asian themed parties for a surprising and fun dessert.
Per Serving 795 calories
Fat 18 g
Carbs 159 g
Protein 6 g
Fun at parties ~ Dessert Sushi!
Ingredients
3 TBSP butter
1 bag (10.5 oz) mini marshmallows
6 cups crisped rice cereal
Fruit roll-ups
Twizzlers or gummy worms
Directions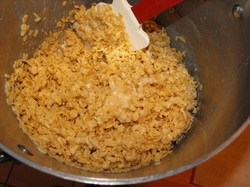 Spray the inside of a large pot with non-stick cooking spray. Melt the butter over low heat and add marshmallows.
Using a heat-proof spatula that has been sprayed with non-stick cooking spray, stir the marshmallows until melted. Add rice cereal, one cup at a time, stirring to mix evenly.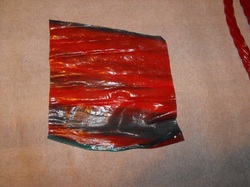 Spread a fruit roll-up or your work surface and remove all packaging. Spray your hands with non-stick spray and carefully pat a layer of the rice cereal mixture on the roll up about 1-inch thick, leaving a strip about 1-inch wide along one side.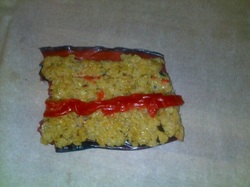 Place 2 Twizzlers (or gummy worms) parallel to the strip in the middle of the cereal mixture. Carefully roll to close the sushi, so that the section of fruit roll-up without cereal overlaps to complete the circle. Slice into desired size and serve. You can also make Sashimi by shaping the cereal mixture as you would little piles of rice. Top each with a rectangle of fruit roll-up and serve. For fun serve with a small bowl of chocolate syrup to look like the soy sauce.