I recently realized when teaching a cooking class for kids that this recipe should probably be called: Tomato Smoothie. This new name brings about a more refreshing mindset to match the lighter flavors this chilled soup possesses.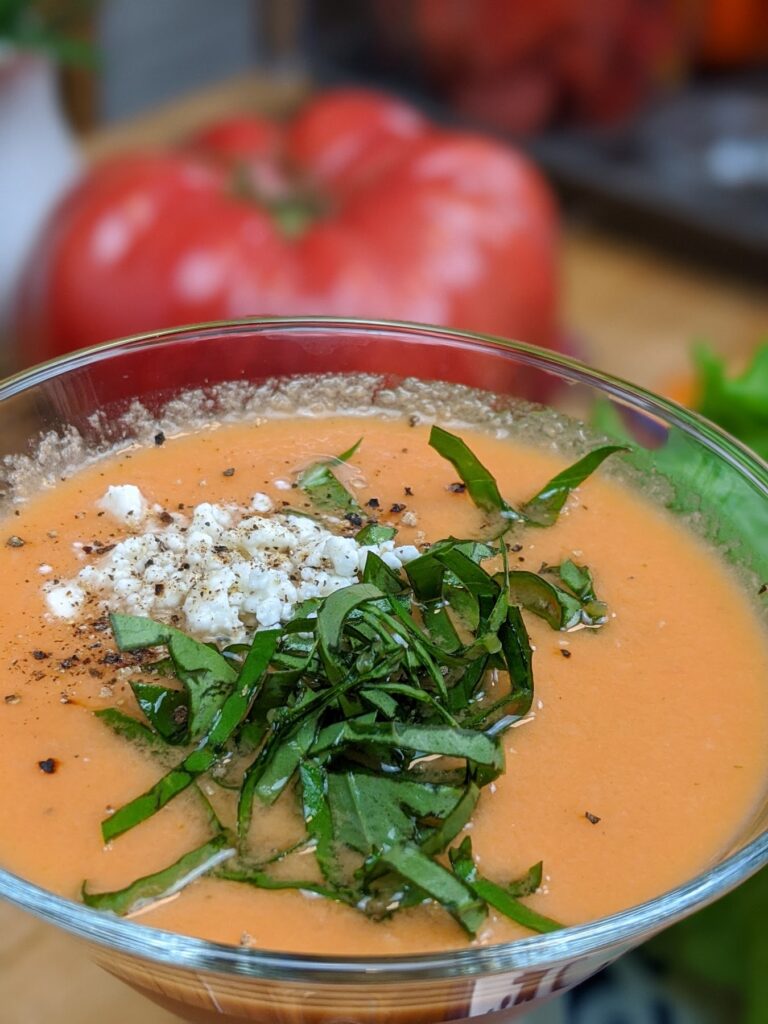 Unlike other gazpacho recipes this is not heavy with the flavors of bell pepper, celery, or garlic. Sometimes I add fresh sweet onion to the blender but lately have opted for this more lightly flavored combination.
Many recipes rely on canned juice or V-8 to add moisture to the soup but I think it is a shame to add canned processed ingredients to this refreshing medley of garden fresh flavors. Instead I like to rely on a fresh juicy watermelon for extra moisture in the mix and because it is usually ripe at the same time as the tomatoes we are combining seasonal flavors in a beautiful and delicious way.
Thank you to Handsome Harvest for the delicious and beautiful variety of tomatoes (and basil) I used for this recipe. Because they were heirloom tomatoes in a variety of colors this resulted in the lovely shade of peach you see above. Peeling the tomatoes (as instructed in the recipe below) is such a fun and easy task- I can remember that it was alway my job when we were canning tomatoes from our garden when I was in elementary school.
The cucumbers and some of the peppers I used for this recipe came from Lucky Dog Farm. The Red Hills Small Farm Alliance is a wonderful resource to help you find seasonal, flavorful, local ingredients.
Enjoy!
Jessica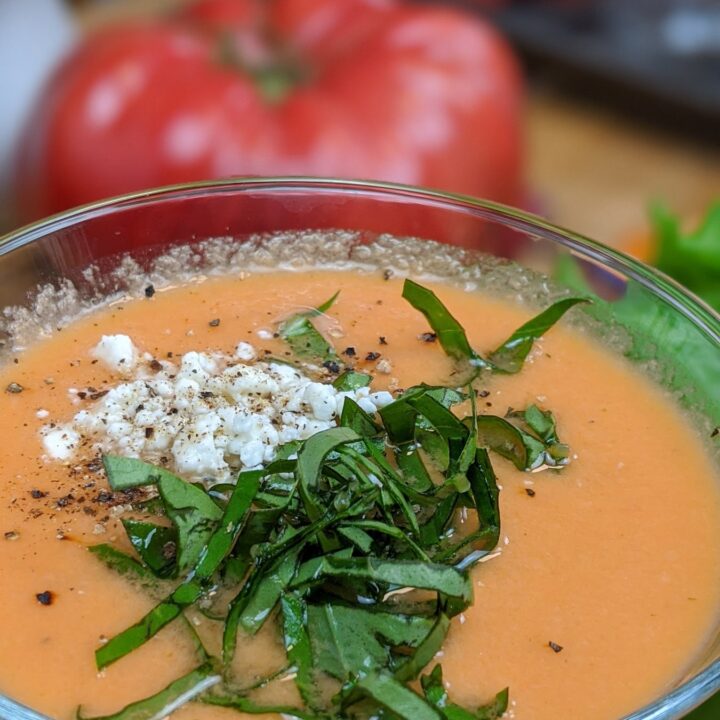 Refreshing Gazpacho
Total Time:
2 hours
15 minutes
A refreshing chilled soup made from summer fresh vegetables.
Ingredients
2 lbs fresh ripe tomatoes
2 medium cucumber
Juice of 1 lime
3 cups fresh watermelon cubes
1 tsp balsamic vinegar
¼ cup olive oil
1 tsp KitchenAble Seasoning (or more to taste)
Fresh basil to garnish
Feta to garnish
Instructions
Bring a medium pot of water to boil. Score the bottom of each tomato with a small "X". Lower the tomatoes into the boiling water for about 20 seconds, or until skins begin to wrinkle. Remove from the pot and place in a bowl of iced water. Peel the skin from the tomatoes, cut in half horizontally and remove the seeds while reserving the pulp and juice.

Place pulp and juice in blender. Peel and seed cucumber and add to blender, pour in lime juice, watermelon, balsamic, olive oil and seasoning.

Pulse to blend until smooth. Taste and adjust seasoning as desired. Chill for a few hours before serving. Serve garnished with crumbled feta and fresh basil.

Nutrition Information
Yield

8
Serving Size

about 1 cup
Amount Per Serving
Calories

103
Total Fat

6.7g
Saturated Fat

1g
Cholesterol

0mg
Sodium

8mg
Carbohydrates

11.6g
Fiber

2g
Sugar

7.5g
Protein

1.8g
Nutrition information is approximate and does not include garnishes.