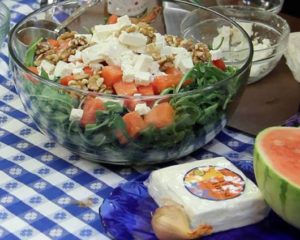 As yet another national holiday approaches, we gear up to do our favorite national pastime…eat! Many are considering what to grill and how to complement that dish with some cool and refreshing side dishes. Here are a few of my recipes that I hope you will enjoy on the Fourth.
Watermelon & Arugula Salad
Per Serving 63 calories
Fat 4 g
Carbs 7 g
Protein 1 g
Celebrate summer with this refreshing salad featuring watermelon
Ingredients
2 shallots, thinly sliced
¼ cup rice wine vinegar
2 TBSP olive oil
¼ tsp salt
Freshly ground pepper to taste
3 cups watermelon seedless watermelon, cut in 1" cubes
1 bag baby arugula (rocket) or arugula
2 TBSP toasted walnuts (optional)
Directions
Separate the shallots into rings and place in vinegar; whisk in oil, salt and pepper. Gently stir in the cubed watermelon. Place arugula on a platter and top with the fruit and dressing. Garnish with toasted nuts, if desired.
Also good with strawberries…either substitute them for the watermelon or use them in combination with watermelon chunks to equal the same quantity of fruit. For the 4th of July, stir in a few blueberries and a little crumbled feta, then your salad will really be red, white, and blue!

MORE RECIPES: