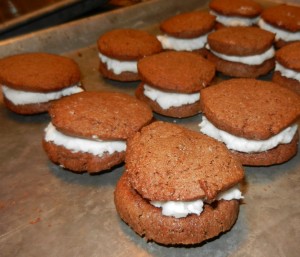 Fall is here and this tasty treat is a great way to celebrate one of the most popular flavors of the season. I like adding a little cayenne pepper to kick up the spice and warm up the flavor.
If you don't want things that spicy, you can cut back or leave it out altogether. Cinnamon, cloves, or pumpkin spice are also excellent spice options that complement this flavor combination.
Per Serving 302 calories
Fat 12 g
Carbs 49 g
Protein 4 g
Soft, moist, pumpkin cookies stuffed with a cream cheese filling ~ the perfect Autumn treat!
Ingredients
Whoopie Pies
1 cup brown sugar
1 ¼ cup canned pumpkin
¼ cup butter, melted
2 cups whole wheat flour
1 teaspoon baking powder
1 teaspoon baking soda
1 teaspoon ground cinnamon
¼ teaspoon salt
¾ teaspoon cayenne pepper (optional--can be reduced if desired)
Filling:
4 oz cream cheese
4 TBSP butter
½ tsp vanilla extract
2 cups powdered sugar
Directions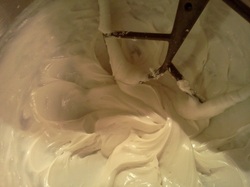 Preheat oven to 375° F. In your mixer, combine sugar, pumpkin, and butter. In a separate bowl stir together flour, baking powder, baking soda, cinnamon, salt and cayenne. Gradually mix this into the pumpkin mixture.
Use a small scoop to drop dough in 2 TBSP mounds onto cookie sheet lined with parchment paper. Bake until light brown, 8 to 10 minutes. Immediately remove parchment from cookie sheet; cool.
Beat together cream cheese, butter and vanilla extract until smooth. Gradually add sugar and beat until smooth. Remove cooled pumpkin cakes from the parchment paper. Smear a generous layer of filling on the bottom and place another cake bottom on it to create a sandwich. If desired, you can roll the edges in chopped nuts. Refrigerate until ready to eat.