I love my job. Yes, it involves a lot of dishwashing and isn't always easy but most of the time it is really a lot of fun. Probably my favorite (and also the most challenging) part of what I do is planning "Tasty Travel" trips. Our years working as V.I.P. tour guides at Disney were the perfect training. Chris and I go to great lengths to put together delicious and wonderful adventures that include beautiful accommodations, fun excursions, foodie opportunities and delicious dining. We always include trips to the local markets/marchés/mercados to find whatever is in season locally.
We learn a lot from these market trips. Talking to the farmers, wherever you are, helps you better understand what they have grown and how to use it. It is also a wonderful place to find the freshest food trends.
On our trip to California in September of 2018 we visited many incredible sights from San Francisco to our old home in Lake Tahoe. It was beautiful and the group traveling with us shared our enthusiasm for the delicious foods we found at every corner. My personal favorite flavor on this trip did not come from a fancy fine dining restaurant in San Francisco or the wine country- though many of those were wonderful. Surprisingly my favorite food was found at the Napa valley farmer's market.
This market surprised me in many ways. It did not feel like it was geared toward tourists or the fancy wines and cheeses that are everywhere else in wine country. Instead the stalls we crowded with many of the migrant farmers who had traveled from Mexico to work in the fields nearby. In keeping with this clientele the vendors offered piles of assorted peppers, cacti, tomatoes, tomatillos, and other flavors from Mexico.
Some stalls offered prepared foods including burritos, tacos, and aqua fresca. There were vendors frying and selling fresh chicharrones de harina- crispy snacks made of wheels that looked like plastic (but were actually flour) deep fried in oil then spritzed with lime juice, hot sauce, and a generous sprinkling of chili powder.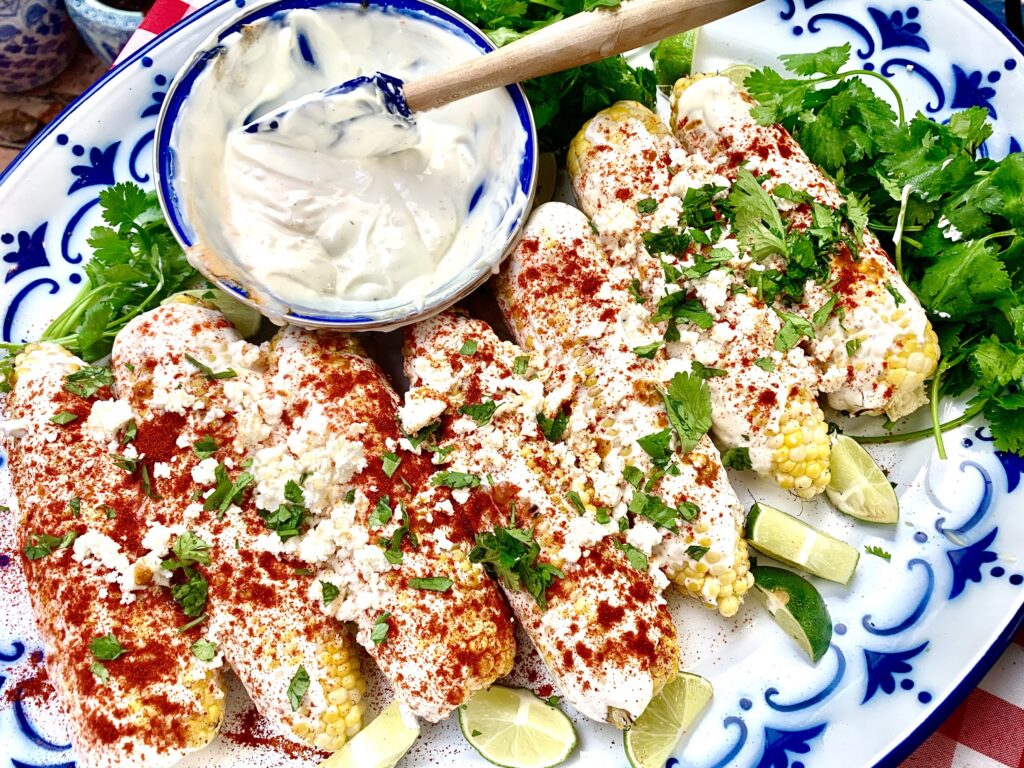 As we wandered through the stalls discovering many new flavors one food really caught my attention. At a small stall in the corner of the market two young ladies stood over a small charcoal grill, chatting in Spanish as they expertly grilled ears of corn on wooden sticks. When an ear had the perfect amount of char on the edges they either served the ears whole on the stick or cut the kernels off into a paper bowl. Fresh lime juice, chili powder, a creamy sauce, cilantro, hot sauce, and crumbled cheese were generously added and then the brave (clutching the dowel) or the wise (carrying their bowl) wandered from the stall, eating contently. I chose to be wise- since I was in public and we were just beginning our day of sightseeing (evidence of this late morning snack was not something I wanted to wear all day). It was so delicious that I hope you will enjoy this recipe that it inspired. With enough napkins available and strategic eating I recommend you serve the ears whole and slathered with the toppings.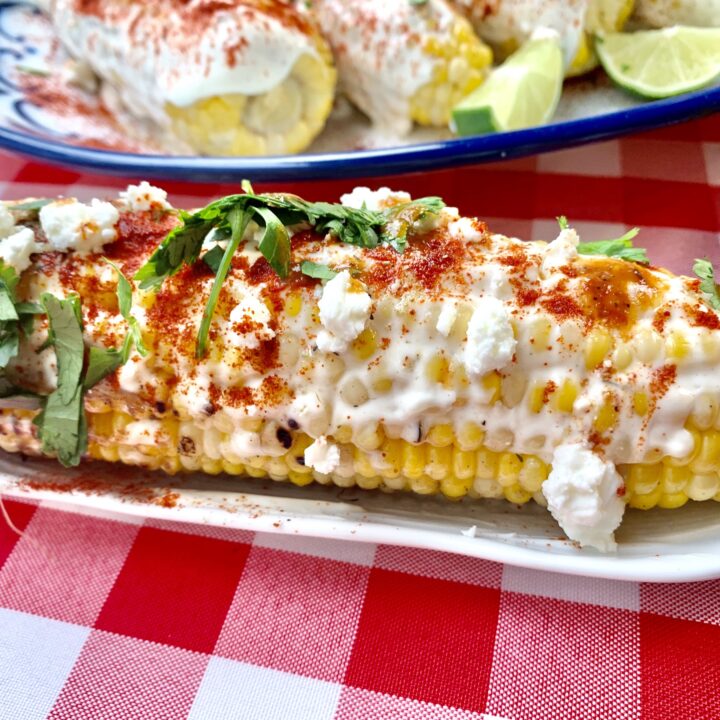 Elote- Mexican Street Corn
This delicious recipe is sold by vendors street side in Mexico.
Ingredients
8 ears corn, shucked
2 TBSP extra virgin olive oil
1 tsp KitchenAble seasoning
¼ cup mayonnaise
¼ cup Greek yogurt (or sour cream, or Mexican crema)
1 clove garlic, pressed
1 TBSP smoked paprika
½ cup crumbled feta (or cojita)
2 TBSP fresh cilantro
2 TBSP minced scallions
1 fresh lime, cut in wedges
favorite hot sauce to taste
Instructions
Brush corn with oil and season with KitchenAble seasoning (or salt and pepper). Grill on medium-high heat until corn is slightly charred. Remove corn from grill. In a small bowl stir together mayonnaise, yogurt, and garlic. Brush generously on the ears of corn then top with the remaining ingredients, serve lime and hot sauce on the side.

Nutrition Information
Yield

8
Serving Size

1 ear
Amount Per Serving
Calories

222
Total Fat

9.9g
Saturated Fat

2.6g
Cholesterol

10mg
Sodium

183mg
Carbohydrates

32.7g
Fiber

4.8g
Sugar

6.1g
Protein

6.7g