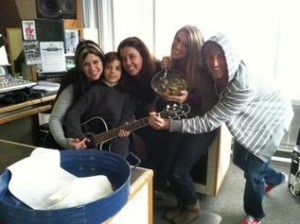 Quiche is wonderful to enjoy for any meal of the day.  Over the holidays it is great to make and enjoy for breakfast.  They reheat really well and can also be frozen after baking to enjoy later.  Once you have a good basic recipe like this one, you can change your cheeses and fillings to suit your taste.  I love ham and swiss; or tomato basil mozzarella; or cheddar and broccoli; or mushroom and provolone, or spinach an feta.
For Tuesday's Table Talk segment on Family Friendly Mornings, 91.7 FM The Promise radio, I made ham, provolone, and asparagus quiche.  Lindsey Ciresi (www.lindseyciresi.com) and Austin Adamec (www.austinadamec.com)  were in the studio for the morning show and enjoyed this so much that they even wrote a song about it.
Easy Basic Quiche – My Family's Favorite Recipe
Quiche is delicious for breakfast, lunch or dinner
Ingredients
Basic Quiche
1 pie crust, unbaked
1 cup shredded cheese of choice
6 eggs
3 cups whole milk
¾ tsp salt
Fresh ground pepper to taste
Fillers of Choice:
1 cup chopped fresh asparagus
1 cup chopped ham
Directions
Preheat oven to 375°F. Pre-bake pie crust for 5 minutes then remove from oven (this prevents it from getting soggy).
Sprinkle half of the cheese on crust, then top with other fillers. Combine milk and eggs in blender, add salt and blend to desired consistency. For a fluffier quiche, blend longer. Pour into crust. Sprinkle remaining cheese on top of quiche.
Bake for 55 minutes or until golden brown on top and cooked through.
NOTE:
These freeze wonderfully. If you would like to freeze one for later, cool it to room temperature then wrap in plastic wrap, then foil. Label, date, and place in freezer. When ready to reheat, allow quiche to thaw in refrigerator, remove foil and plastic wrap, then cover lightly with foil. Preheat oven to 350°F and bake for about 15 minutes until heated through.