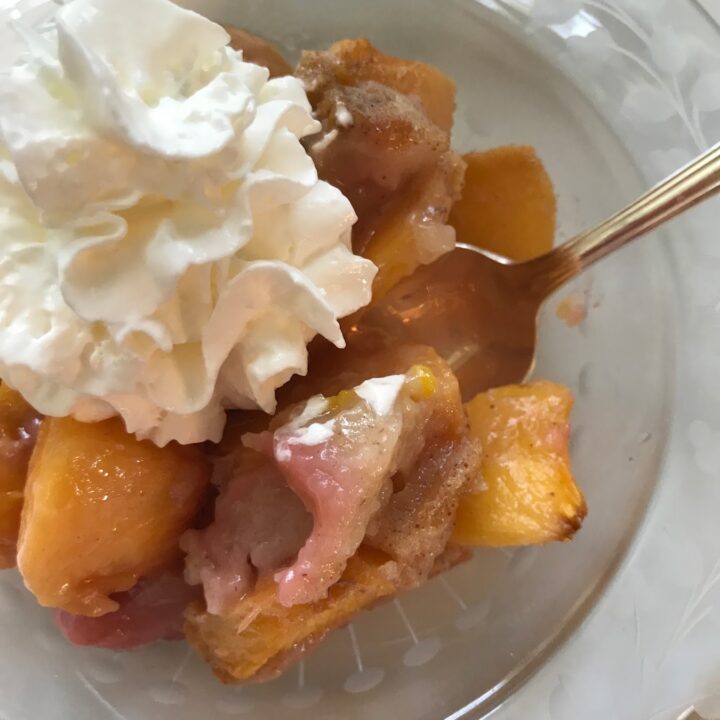 Double Delicious Peach Cobbler
A delicious fruit dessert that has two layers of flaky crust.
Ingredients
10 cups fresh peaches, peeled and sliced
¾ cup quick cooking tapioca
2 cups sugar
1 TBSP lemon juice
1 tsp fresh lemon zest
6 TBSP butter
Pastry Crust (See Oat Flour Pastry Recipe)
1 egg, beaten well
2 TBSP coarse sugar (caster sugar or sugar in the raw)
Instructions
Prepare the fruit for use, remove seeds or pits if necessary and cut larger pieces into about ½" pieces- unless you are using all small berries. Mix the tapioca and sugar in a separate bowl. Add the sugar mixture to the fruit. Stir in lemon juice and zest, allow to sit while you roll the prepare pastry crust.

Pour half of the fruit into a 9x13 baking dish, cut 3 TBSP of the butter into small pieces and spread the pieces evenly over the fruit filling. Top with one layer of crust (half of the dough). Add remaining filling and top with remaining butter. If desired weave a lattice top with the final layer of crust or use decorative cutters to embellish the top. Brush crust with beaten egg and sprinkle with coarse sugar. Bake at 400° for about 40 minutes or until golden brown and bubbly.

It is best to use fresh fruit but if you prefer you can also use frozen, let it thaw partially before using and add a little extra bake time.
Notes
Fresh peaches are best as long as they are flavorful. If it isn't peach season try substituting frozen peaches but let them thaw first. You can also substitute other fruits or combinations including: mango, apricot, blueberry, raspberry, strawberry, blackberry, and others.
Serve fresh from the oven with vanilla ice cream.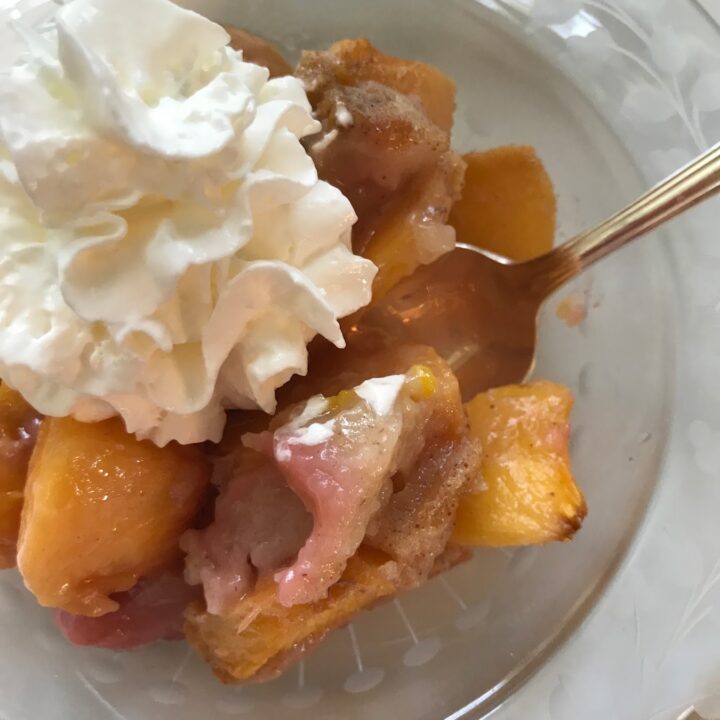 Oat Pasty Crust
Ingredients
3 cups oat flour
1 tsp salt
1 ¼ cups cold butter cut into tsp size pieces
1 large egg
5 TBSP cold water
1 TBSP white vinegar
Instructions
Whisk together salt and flour. Using pasty blender or food processor work bowl cut in butter until mixture resembles coarse meal. In separate bowl combine remaining ingredients and whisk. Add to flour mixture, stir as little as possible but combine thoroughly. Separate into two disks, wrap each in plastic wrap then chill thoroughly before rolling out.

DO NOT HANDLE THE DOUGH ANY MORE THAN YOU HAVE TO OR THE CRUST WILL NOT BE FLAKY.

When ready to roll, use a large piece of plastic wrap or parchment paper. Flour it lightly, place dough on top, and add a little more flour. Cover with another piece of plastic or paper. Roll between the two layers of paper/plastic with rolling pin until slightly larger than baking dish. Remove top layer of paper/plastic then use bottom layer to lift dough, place in prepared dish.