Sometimes, when I'm lucky, a friend will share the bounty of their garden.  When this happens I have the privilege of planning a menu that is inspired by their fresh ingredient, in this case cabbage.
Cabbage is so versatile that you can use it for many menu options but…this classic recipe has always been one of my family's favorites.  I can remember my grandparents relishing this "treat" when I was my Max's age.  Grandma Walton still makes this one pot dinner whenever she wants to feed a crowd.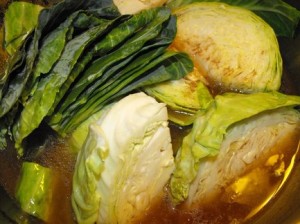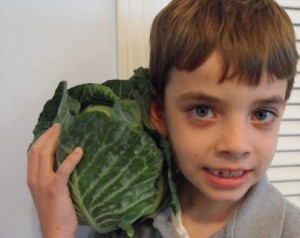 What do you cook with cabbage? Just ask Max!
Per Serving 341 calories
Fat 21 g
Carbs 17 g
Protein 20 g
Ingredients
3 lb (approx) corned beef, flat cut brisket
3 medium onions, peeled and quartered
10 whole carrots, peeled
6 black peppercorns
4 bay leaves
1 TBSP ground Syrian Seven Spice or Chinese Five Spice Blend
1 TBSP pickling spices (or seasoning packet from meat)
1 bottle beer of choice
3-4 cups water
1 medium head of cabbage
Chive Cream Sauce
1 cup sour cream
2 TBSP prepared horseradish
2 TBSP minced fresh chives
Fresh ground black pepper to taste
Directions
Remove beef from packaging, rinse, and place in a large dutch oven. Add onions, carrots, peppercorns, bay leaves, spices, and pour over beef. Add enough water to cover meat. Place lid on the pot and bring to a boil then turn down the heat and allow it to simmer for about 3 hours or until the meat is tender. Remove meat from pot and cover with foil. Remove carrots and onions to serving plate.
Cut cabbage in half, then quarter each half. Add this to the pot and its remaining liquid. Bring to a boil and allow it to simmer until cabbage is cooked to the desired tenderness. Unwrap beef and cut it against the grain, serve at once with the cooked vegetables and chive cream sauce.
Whisk together all ingredients for sauce and chill until ready to serve.Enjoy with corned beef.